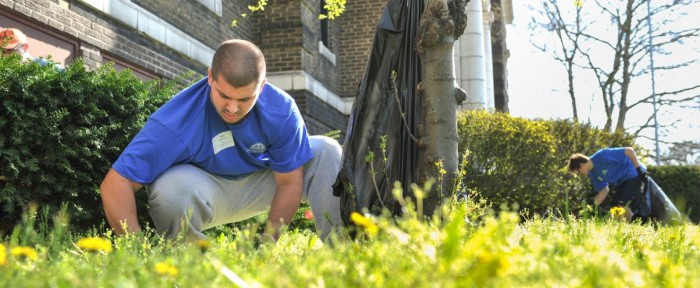 The Center for Service and Social Action offers numerous one-time projects and events open to students, staff, and faculty. One-time service allows members of the JCU community to get a "taste" of service at JCU alongside fellow students and faculty/staff, participate in pre- and post-reflection of the service activity, and learn more about their Greater Cleveland communities and neighbors and the struggles they face.
During the school year, these events include the annual Volunteer Income Tax Assistance program that takes place during tax season in the spring, calling upon volunteers to help low- and moderate-income individuals and families prepare their taxes at no cost; the Jesuit Day of Service, a spring clean-up project held in April or May in the Hough and St. Clair-Superior neighborhoods; and the We the People Service-Learning Program Spring Events in May, where JCU community members may volunteer to judge a Mock Congressional Hearing of fourth graders or a Youth for Justice Summit for eighth graders who come to JCU's campus.
There are also some great opportunities that take place over the summer, including Fatima Fun Day and Fatima Teen Day, events that bring Fatima Family Center's youth to John Carroll's campus for a day of fun or college-readiness; and the Cleveland Neighborhood Project, a day-long service project centered at Fatima Family Center and its surrounding neighborhood that takes place in August as part of "Living the Mission" day for first-year students.