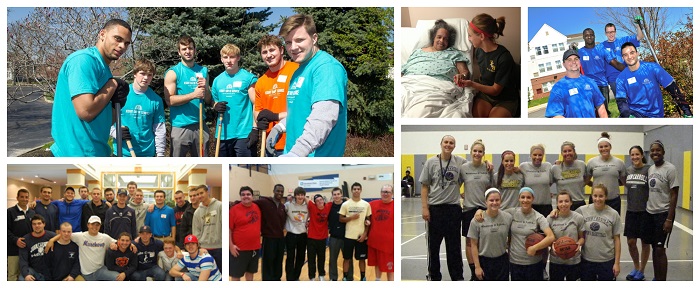 The Varsity Team Service Award is awarded to one Varsity Men's team and one Varsity Women's team annually. Members of the winning varsity team have participated in service as a team and may also have individual members who have participated in service apart from their team. They have shown significant commitment to building relationships with the people they serve and have incorporated meaningful reflection into their post-service experiences.
The Team Awardees are selected by an Award Committee consisting of the Director of the Center for Service and Social Action, the Director of Athletics, the Assistant Director of Athletics, the team Chaplain, the Faculty Representative to OAC and NCAA, and the current president of the Student-Athlete Advisory Committee (SAAC). The winning team will be announced during DIII week each April and will receive a certificate and their name on two perpetual plaques – one to be displayed in the CSSA office and one in the Athletics hallway.
Varsity teams: click here for 2017-2018 award criteria and submission guidelines!
Applications for the 2018 Varsity Team Service Award are now closed. Thank you to all who submitted!
Recipients of the Varsity Team Service Award:
2017  |  Women's Softball & Men's Wrestling
2016  |  Women's Soccer & Men's Football
2015  |  Women's Lacrosse