Nominations are now being accepted for the 2019 Staff Community Service Award! See below for how you can nominate someone today!
The John Carroll University Staff Community Service Award is to recognize individuals for outstanding service to the greater Cleveland community in representing a "faith that does justice."
Nominees should be John Carroll employees who have made a consistently positive impact on the community through voluntary service and have a demonstrated commitment to the community, to social justice, and to the values of Jesuit education. The nominee must be a current, full-time employee who has been with the University for at least 2 years. Members of the faculty are not eligible for this award; a separate award, the Curtis W. Miles Faculty Award for Community Service is available.
The award will be given annually to one staff member.  Recipients will receive a $1,000 award stipend and acknowledgement on the CSSA website.
Nominations are now being accepted for the 2019 Staff Community Service Award! Please complete a nomination form by Monday, December 3, 2018 at 5:00 PM.
Click here to see sample nomination letters.
---
Recipient of the Staff Community Service Award:
2018  |  Mike Roeder, Facilities & Auxiliary Services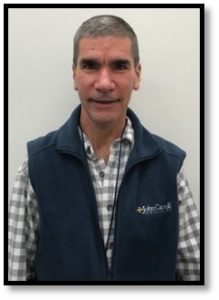 Mike has been an exceedingly caring, committed, and conscientious presence on campus since 1988. Working in various roles across the university over the past 30 years, Mike lives and embodies the mission of John Carroll. He is known for his willingness to go above and beyond the call of duty for the community. Mike is a regular participant on John Carroll Immersion trips and student retreats. He has mentored generations of students. His regularly signs on for the Jesuit Day of Service, the First Year Retreat Program, and serves as the advisor for the Labre Project. In all of these activities, students take note of Mike's total engagement and generous spirit from beginning to end. The impact of Mike's actions and attitude on students can be measured by the fact that he consistently gets invited by a member of the senior class for the Senior Week Retreat Luncheon. Mike's commitment to serving others extends beyond John Carroll's campus. Within his neighborhood Mike's neighbors know they can count on him to help move furniture, lend a hand with yard work, shovel snow, and assist with any other needs. Mike's kindness and generosity have earned him consistent recognition by his community as "Bushnell Neighbor of the Year." With his giving spirit, positive energy, and passion for service, we congratulate Mike on earning the Staff Community Service Award!
2017  |  Nancy Coyne, Athletics
2016  |  Peter Bernardo, Development
2015  |  James Burrows, Mail Center
2014  |  Cheri Slattery, Integrated Marketing & Communications
2013  |  Chris Wenzler, Sports Information Systems
2012  |  Tom Reilley, Purchasing
2011  |  Louise Barmann, Sociology & Criminology