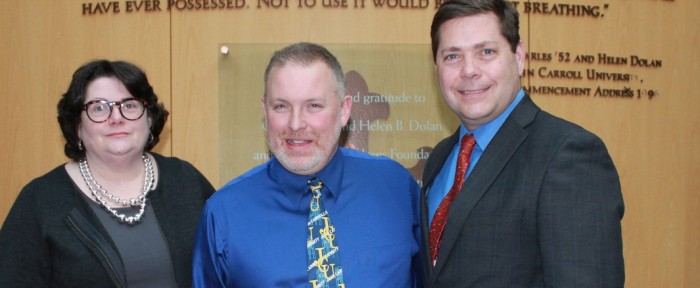 The John Carroll University Staff Service Award is to recognize individuals for outstanding service to the community in representing a "faith that does justice."
Nominees should be John Carroll employees who have made a consistently positive impact on the community through voluntary service and have a demonstrated commitment to the community, to social justice, and to the values of Jesuit education.
The nominee must be a current, full-time employee who has been with the University for at least 2 years. Members of the faculty are not eligible for this award; a separate award, the Curtis W. Miles Faculty Award for Community Service is available.
Nominations are now open for the 2016 Staff Service Award! Submissions are due by Wednesday, December 9, 2015, at 5:00 PM.
Click here to nominate a staff person for the award!
Click here to see a sample nomination letter.
The award will be given annually to one staff member.  Recipients will receive $1,000, a certificate, a letter of recognition from the President, and acknowledgement on the CSSA website.
Staff Service Award Recipients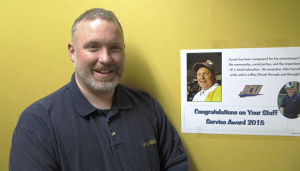 The 2015 recipient of the Staff Service Award is James Burrows. James started working for the JCU Mail Center in 1995 when he started as a student at John Carroll, and became a full-time employee in the Mail Center in 1997. He received his Bachelor's degree in History with a minor in Communication from JCU. In recent years, James has served the John Carroll community not only with his commitment to his job, where he feels helping others is a daily routine. He has participated in Cleveland Neighborhood Project, Jesuit Day of Service, and loves to give out treats at Halloween. In 2008 he was invited to serve as a pallbearer for Fr. Joseph Schell, S.J.,former President of the University. James takes pride in supporting the University community as much as possible, also serving as the Game Day Video Coordinator for the Men's and Women's Basketball teams. James desires to make his Cleveland community a better place. He loves Cleveland, and as loyal Blue Streak Alumni, James proudly works, serves, and promotes John Carroll and his community with a full heart.
2014 – Mrs. Cheri Slattery, Administrative Assistant in the Communications Department
2013 – Chris Wenzler, Sports Information Systems
2012 – Tom Reilley, Purchasing
2011 – Louise Barmann, Sociology