The Curtis W. Miles Award recognizes faculty members who share their expertise with community groups and non-profit agencies. The Faculty Committee on Research, Service, and Faculty Development solicit nominations from JCU faculty, staff, administrators, and students and recommends candidates with support from the Center for Service and Social Action.
The award is a $1,000 cash award given to a full-time teaching or library faculty member who has made a significant contribution to the broader Cleveland community consistent with the University's mission and goals. The award is presented during John Carroll University's Ignatian Heritage Week in recognition of the role of service in the University's mission.
Curtis W. Miles, a retired pharmaceutical salesperson, endowed the first faculty community service award in 1992 to encourage and recognize faculty members who reach out to the community and offer their skills and talents to agencies and community partners who need it most. Miles died February 15, 1994.
The nomination period for the Curtis W. Miles Award is now through Monday, December 1.
For more information about the award, contact Dr. Abdul Imam at aimam@jcu.edu.
Recipients of the Curtis W. Miles
Faculty Award for Community Service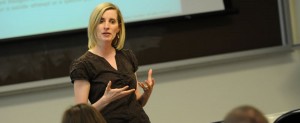 The 2014 Recipient of the Curtis W. Miles Faculty Award for Community Service is Tracy Masterson '97, Ph.D., Psychology. Dr. Masterson is an Assistant Professor of Psychology with a specialization in Clinical Child and Adolescent Psychology. As a graduate of John Carroll University ('97) and with graduate training and post-doctoral training in Northeast Ohio, she has used her local connections at the Cleveland Clinic Center for Autism, the Milestones Autism Organization, and the Monarch Center for Autism at Bellefaire JCB to connect John Carroll students to service and internship programs working with individuals with autism spectrum disorders. Dr. Masterson has developed an academic course related to autism as well as student advocacy on the John Carroll campus through the establishment of the Autism Speaks U chapter at JCU. Her work with the Milestones Autism Organization has also grown steadily over the past several years, developing into the coordination of social events that connect individuals on the spectrum with JCU students, the placement of trained students as behavioral coaches with families, and speaking at their annual conference. Additionally, Dr. Masterson is serving as the co-chairwoman for the 11th Annual 2014 Milestones Autism Conference. Her goal is to educate and excite students about the field of clinical psychology, and autism spectrum disorders in order to help meet the growing community need for professionals trained in this field. Dr. Masterson's students benefit significantly from these experiences while helping to meet the growing needs and demands for individuals with autism spectrum disorders.
2013 - Linda Seiter, Ph.D. Mathematics & Computer Science
2012- Gloria Vaquera, Ph.D., Sociology and Criminology
2011- Brent Brossmann, Ph.D., Tim Russert Department of Communication and Theatre Arts
2010- Paula Britton, Ph.D., Community Counseling
2009- Ruth Fenske, Ph.D., Grasselli Library
2008- Jeanne Colleran, Ph.D., English
2007- Rich Clark, Ph.D., Sociology and Criminology
2006- Margaret Finucane, Ph.D., Tim Russert Department of Communication and Theatre Arts
2005- Sharon Kaye, Ph.D., Philosophy
2004- Gerald Weinstein, Ph.D., CPA, Accountancy
2003- Sally Wertheim, Ph.D., Education and Allied Studies/Graduate School
2002- Wilhelm Bartsch, Ph.D., Classic Modern Languages and Cultures
2001- Lauren Bowen, Ph.D., Political Science
2000- Mark Diffenderfer, Ph.D., Sociology
1999- John Soper, Ph.D., Economics and Finance