Congratulations to the 2017 Campion Award Winners: William DiPasquale '18 and Leanne Tang '19!
In the spirit of St. Edmund Campion, the George B. Sweeney Endowed Campion Award for Service recognizes one sophomore student and one junior student each year with a demonstrated record of involvement in community service and social action, dedication to a faith tradition and/or spirituality, and strong evidence of leadership potential.
This is a one-year, $1,000 award given to one sophomore and one junior each year. The Center for Service and Social Action also administers up to $500 in additional funds to each Campion Award recipient for an approved campus-based service project.
Established in 1996 by JCU alumnus George B. Sweeney '55, this fund honors John Carroll University students who have made significant service contributions, both on campus and in our larger community and who are committed to becoming leaders in social action. The award is named for St. Edmund Campion, an English Jesuit who was martyred in 1581. Campion rejected a life of prestige, power, and wealth to spend his life in service to others in most need.
Applications for the 2018 George B. Sweeney Endowed Campion Award for Service are now closed.
---
Recipients of the Campion Award:
2017  |  William M. DiPasquale '18 & Leanne Tang '19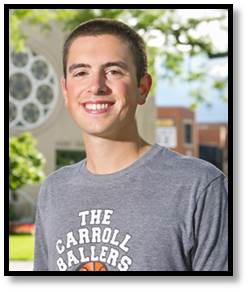 William DiPasquale is a junior Cell Molecular Biology major and an Arrupe Scholar from Rochester, New York.  Will has been a participant and coordinator in the Carroll Ballers program at the Cuyahoga County Juvenile Detention Center assembling the roster, planning sessions, and executing fundraisers and special events like Thanksgiving at the JDC.  He leads the program sessions every Tuesday and Saturday focusing on topics like Character and Leadership.  This past summer, Will was selected and awarded one of only four Shepherd Internships.  He spent the summer in Louisville, KY working with a homeless advocacy agency. He was responsible for conducting street and shelter outreach in order to administer the agency's vulnerability index survey. Will had to build rapport and gain the trust of men and women on the streets to engage them in the sixty-question survey inquiring about their mental and physical health and other risk factors associated with homelessness.  Will also serves the JCU community as member of the JCUEMS team responding to medical emergencies that arise on campus and responding with comfort and care.  When asked about the significance of his service experiences, Will stated, "The service experiences I've had at John Carroll have transformed me as a person. My worldview has been influenced in such a way that in every waking moment of my life, I will be applying the knowledge I have gained from service at John Carroll. I have learned that it is not only possible but truly a beautiful human experience to develop relationships with those different from one's self – it simply requires an open mind and a kind heart. I've learned that social connection is the foundation of social change."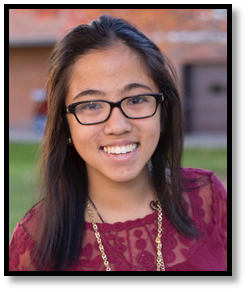 Leanne Tang is a sophomore Biochemistry major from Brook Park, Ohio, minoring in Biology and Catholic Studies. She is involved in CSSA's "Youth for Justice" program and works with 8th graders at St. Adalbert Elementary School.  As part of the program, she guides and supports 8th graders to address the current injustices found in their communities. For the past four years, Leanne has also been involved with the Cleveland Leadership Center as part of their "Look Up to Cleveland" program.  She currently serves as a board member and officer.  Through her involvement, she has worked out in the communities alongside leaders in the city as well as organizations to get new initiatives and address the problems affecting the people living in these communities. She noted, "I loved being able to work with all people and that was something I was particularly good at. I specifically worked with the St. Clair Superior Neighborhood Cooperation to assist in their work in improving the community."  Leanne has served as a peer mentor and researcher at the Cleveland Clinic Children's hospital where she conducted research on the causes and consequences of pediatric obesity in greater Cleveland.  She now serves on a team there helping children choose the best and healthiest life possible. Leanne serves the JCU Student Union as a class senator, is a work-study student in Campus Ministry, participated in the Honduras Immersion trip as part of a medical brigade, and is a recognized and committed leader in service to others.
2016  |  Marina Giannirakis '17, Robin Goist '18
2015  |  Patrick Vecellio '16, Annmarie Kirchner '17
2014  |  Courtney Radtkin '15, Katie Coffey '15, Grace Donnelly '16
2013  |  Alyssa Giannirakis '14, Ned Barnes '15, Michael Gong '15
2012  |  McKenzae Bartels '14, Maggie Hutchison '14, Julia Blanchard '14
2011  |  Catherine Distelrath '12, Jeffrey Hatgas '12, Jillian Dunn '13
2010  |  Daniel Fitzmaurice '11, Thomas Coast '12
2009  |  Natalie Terry '10, Kevin Henderson '11
1999  |  Chris Kerr '00, Trena Marks '00, Patrick Corrigan '01
1998  |  David Birchok '99, Patrick Scanlan '00, Brian Sinchak '00
1997  |  Grant Mast '98, Melanie Shakarian '98, Julie Thorud '99
1996  |  David Roth '97, Penny Roxas '98, Valerie Williams '98