In the spirit of St. Edmund Campion, the George B. Sweeney Endowed Campion Award for Service recognizes sophomore and junior students who have demonstrated a commitment to community service and social justice motivated by a faith perspective. Established in 1996 by JCU alumnus George B. Sweeney '55, this fund honors John Carroll University students who have made significant service contributions, both on campus and in our larger community and who are committed to becoming leaders in social action.
The award is named for St. Edmund Campion, an English Jesuit who was martyred in 1581. Campion rejected a life of prestige, power, and wealth to spend his life in service to others in most need.
The one-year, $1,000 award is granted to educate promising student leaders in social policy analysis in a faith perspective. The Center for Service and Social Action also administers up to $500 in additional funds to each Campion Award recipient for materials, printing etc. associated with an approved campus-based service project.
Applications for the 2016 Campion Award are now available! The deadline for submissions is Wednesday, December 2, 2015, at 5:00 PM.
Click here for more information on how to apply.
Recipients of the George B. Sweeney
Endowed Campion Award for Service:
2015 – Patrick Vecellio and AnnMarie Kirchner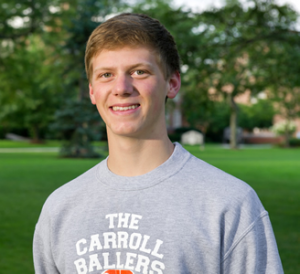 Patrick Vecellio is a junior Biochemistry major and Philosophy minor from Detroit, Michigan. Along with being an Arrupe scholar, Patrick has served as a Fatima Food Drive co-chair since his freshman year. He has also been a tutor in the We the People program and a team leader in the Carroll Ballers program for three years. Much of his passion for working with youth has stemmed from his experience on an immersion trip to Honduras in 2011. He is very excited to be returning to Honduras with the John Carroll immersion program in May 2015. Patrick's other activities on campus include serving as the Health and Wellness co-chair for the Students for Social Justice organization, working in the Office of Admission as a tour guide, as an Orientation Leader, and as a teaching assistant in the Chemistry Department.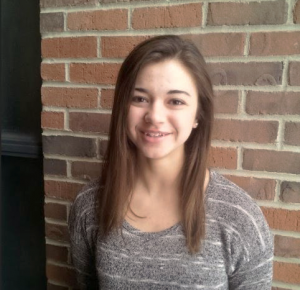 AnnMarie Kirchner is a sophomore student from Medina, Ohio. She is majoring in Communications with an Integrated Marketing track. AnnMarie has been involved in service  since the fall semester of her freshmen year. She has participated in OGT tutoring at Collinwood High School, tutoring at St. Thomas Aquinas, and completed a summer internship at the Fatima Family Center in Cleveland. She is also a Student Liaison for the Center for Service and Social Action. Her dedication to service stems from her deeply rooted faith life as she is also involved in student-run Bible Study groups on campus. AnnMarie is also a member of the varsity women's softball team.
2014 – Courtney Radtkin, Katie Coffey, Grace Donnelly
2013 – Ned Barnes, Alyssa Giannirakis, Michael Gong
2012 – McKenzae Bartels, Julia Blanchard, Maggie Hutchison
2011 – Catherine Distelrath, Jillian Dunn, Jeffrey Hatgas
2010 – Thomas Coast, Daniel Fitzmaurice
2009 – Kevin Henderson, Natalie Terry
1999 – Patrick Corrigan, Chris Kerr, Trena Marks
1998 – David Birchok, Patrick Scanlan, Brian Sinchak
1997 – Grant Mast, Melanie Shakarian, Julie Thorud
1996 – David Roth, Penny Roxas,Valerie Williams