On September 4, 2014 the Honor Project Trust awarded a grant to CSSA's We the People Service-Learning Program.
The purpose of The Honor Project Trust is to identify 501 (c) (3) charitable organizations which demonstrate in their application societal impact in the State of Ohio and to distribute Cy Pres funds to those entities selected. JCU Alumni Judge John J. Russo  thereafter authorized The Honor Project Cy Pres Initiative.  Over six million dollars was distributed to over 250 organizations representing every county in Ohio.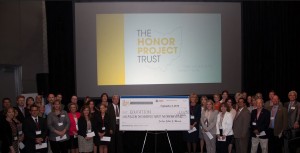 John Carroll University's Center for Service and Social Action (CSSA) will use the Honor Project Grant Funds to enhance the learning opportunities for our partners in the We the People Service-Learning Program. Teams of JCU tutors partner with Cleveland and East Cleveland classrooms in order to teach lessons on the Constitution, American government, and civic engagement. These funds will help us purchase new textbooks for our partner classrooms, develop workbooks for the students, and provide the JCU tutors with additional teaching resources. To learn more about the We the People program, click here.
For more information, please visit the Honor Project website at http://honorproject.org/
Posted on September 15, 2014