B.A. in Communication and Theatre Arts, '08; M.A. in Communications Management, MA '11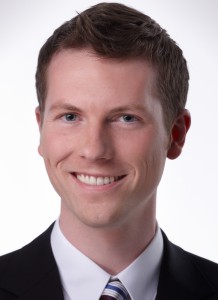 Robert is quick to credit the Tim Russert Department of Communication and Theatre Arts as having helped him get where he is today. As a television weather anchor and host of a weekly segment called "Wandering Wisconsin" on WAOW-TV, the ABC affiliate in Wausaw, Wisconsin, his job allows him to do the two things that he's always wanted: to forecast the weather and be a television host.
Rob draws a clear connection between his class experiences, both undergraduate and graduate, at John Carroll and the work he does today. "Each stage of my academic career helped me to gain a better understanding of what makes a better communicator, employee, and citizen," he says.
While attending John Carroll, Rob participated in TV-4, Eta-Eta, the Marinello One Acts, the Society of Professional Journalists, as well as WJCU 88.7FM. Rob adds that "from no other organization did I learn more about the real world than at WJCU."