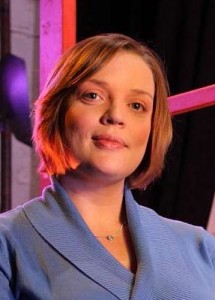 Beth Woods '99:  Beth works as the Associate Artistic Director for Cleveland Public Theater.  Cleveland Public Theatre (CPT), is one of the nation's leading experimental theatres.  Beth uses the wealth of knowledge and experience she gained at JCU each day. Through her work at CPT as an actor/director and administrator supporting the creation of new work by Northeast Ohio artists, she has had the opportunity to create art, while investing the greater Cleveland community.
Chris Tye '98: Chris Tye, John Carroll University class of 1998, is a familiar face in Cleveland media as a TV news anchor for WKYC Channel 3. Even from a young age, he always new that he wanted to be in broadcast news. "When I was seven or eight years old, I was doing fake live shots in the backyard, substituting curtain rods for microphones," he says. Recently, Tye was sent over to London to cover the 2012 Olympics.
To read more about Chris Tye and Pat Butler, click here.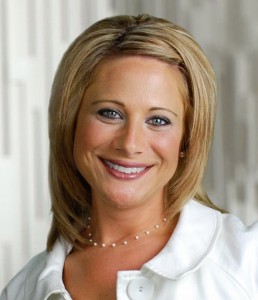 Lisa Zone '98: Lisa works as the Senior Vice President at Dix & Eaton-Public Relations/Marketing Communication. She is Board member for JCU's inaugural Cleveland Alumni Chapter, the youngest member of Dix & Eaton's leadership committee, and was named to "Crain's Cleveland Business" Forty Under 40 list and YWCA's Women of Professional Excellence List. Her advice to current students is to "do the things you love to do and are passionate about, and success will naturally follow."
John J. Richardson '97: As a member of the law firm's litigation group, John's practice includes a wide variety of litigation matters involving claims of strict product liability, negligence, breach of contract, breach of warranty, violations of consumer protection statutes, intentional interference with contractual relations, violations of restrictive covenants, insurance coverage issuesand professional negligence/legal malpractice, amongst others. He has been recognized as a Pennsylvania Super Lawyer Rising Star from 2010-2012 and is also a 2008 PUMP/Pittsburgh Magazine "40 Under 40" Award recipient. John is a 1997 graduate of John Carroll University with a major in Communication. He later attended the University of Pittsburgh School of Law, earning his J.D. in 2000.
Ric Harris '86 '05G: B.A. in Communication '86, M.A. in Communications Management '05
According to Ric Harris, earning his Masters in Communications Management helps him in three distinct ways.
"First, it provides tremendous differentiation in our highly competitive, global marketplace. As a media executive, I have witnessed first-hand the tectonic shifts in our industry and realized very early that a broad understanding of media coupled with a keen understanding of digital strategy would help shape my vision and ability to lead.
Second, the Masters in Communications Management is built for practical application. Like most grad students, I pursued my degree while working full-time. Because this Masters program effectively blends the core principles of Communications and Business Management, I was able to immediately apply the lessons learned in class at work.
Third, my pursuit of the Masters in Communications Management re-enforced the value and benefit of "life-long learning." Today's business environment demands that we are continually honing our skills, learning new concepts, and expanding our network. The Masters in Communications Management enabled me to do all of those things in a collaborative environment with a faculty team that challenged me and fellow students who inspired me.
I am forever grateful for the knowledge and experience!"
Ric was recently promoted to president and general manager of WVIT, the NBC-owned station in Hartford-New Haven.  He joined WVIT in March of 2013 as vice president of sales.  Prior to that, he spent two years at Accenture, where he was manager ofcommunications, media and technology.  From 2005-2007, he was EVP and general manager of digital media and strategic marketing for NBC-owned stations.  Prior to that, he was VP-GM o WEWS in Cleveland.