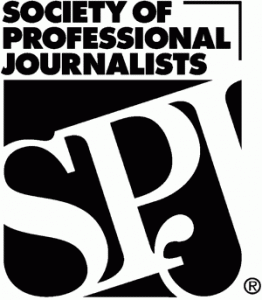 John Carroll's chapter of the Society of Professional Journalists allows communication majors to promote the ethical practices of journalism and uphold First Amendment freedoms of speech and the press. The campus chapter also provides opportunities to interact with working journalists in Cleveland's SPJ professional chapter.
Monthly student chapter programs have included speakers on media access to government information, photography, newspaper layout and design, copy editing, and magazine writing. The chapter has joined other student organizations in sponsoring panels on resume and portfolio preparation and career advancement opportunities.
The national organization offers internships and fellowships, and an annual awards competition for students and professionals.
Membership in SPJ is open to all students at the University. The annual cost, payable in October, is $36 for national dues and $5 for local dues. Chapter meetings are held monthly. Members also receive Quill Magazine, a monthly publication from the national organization.
For more information please contact Carrie Buchanan, Ph.D., at 216.397.3078 or by email at cbuchanan@jcu.edu or visit the national website.