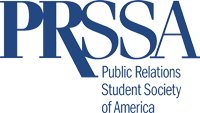 John Carroll is one of only four schools in Northeast Ohio that has a chapter of PRSSA, the sister organization for the Public Relations Society of America (PRSA). PRSA is the leading professional organization for public relations practitioners and managers. You do not need to have a major or minor in communication to join PRSSA. Membership in the organization provides several important academic career advantages, including:
Local and national student competitions
Guest speakers and workshop programs
Web-page skills
PRSA Student Day
Discounted PRSA membership
Portfolio development
We invite you to come in and take a look at our organization. Should you have any questions, contact Lisa Lewis at llewis@jcu.edu or by calling 216.397.3079.