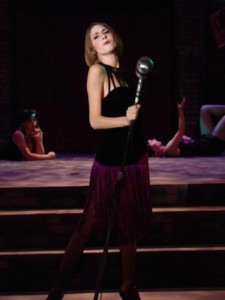 Theatre is an art that celebrates the human capacity for empathy, intellectual engagement, and wonder.  In the theatre, actors and audience share the same place and time to explore what it is to be human.  Theatre at John Carroll University, whether as an academic area of study or as a co-curricular activity, is open to all students regardless of major or class year, and can count for academic credit toward the university core, the CO major or as an elective.  Students can take classes in the history of theatre, act in university productions and direct or design their own one-act production.  There are many ways to get involved and learn.
The Little Theatre Society is an organization of students who are interested in theatre. You don't have to be an actor, director, or technician to join. Basically we try to cultivate interest in and enjoyment of theatre itself. Below you can see some of the things we have done in the past and plan to do in the future.
•We organize trips to go see various theatrical productions in the Cleveland area. (We can usually get group rates so everyone can afford to go).
•All members are encouraged to tryout or help out with the Tim Russert Department of Communication and Theatre Arts productions. Activity in productions is encouraged as a great way to meet people and even earn points towards a membership in Alpha Psi Omega, a nationally recognized fraternity for theatre.
•Each spring we sponsor an evening of script readings. "Unheard Voices" showcases original plays written by JCU students, staff, and faculty. If you enjoy writing, why not try writing a one-act play?
•We have one big event each year, like sponsoring Second City Improv, or a local theatre group to bring their outreach series of plays and workshops to John Carroll.
•At the end of the year we take an overnight trip to ThornAcres, a cabin "resort" owned by JCU for Alpha Psi Omega inductions. It's a ton of fun and shouldn't be missed!
Meetings are typically every other Thursday at 5:30 p.m. in Marinello Little Theatre. Come join us!
For more information contact the faculty advisor,
Dr. Karen Gygli at (216) 397-4191 or kgygli@jcu.edu