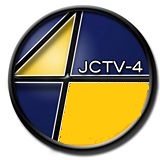 JCTV-4 is John Carroll University's cable channel dedicated to student-produced programming. Students looking for a career in broadcasting or just looking to have fun will get the chance to gain hands-on experience using audio and video equipment in the television studio.
This co-curricular provides many opportunities to write, produce, direct, and star in shows which air on a closed-circuit campus television channel. Weekly productions range from newscasts, game shows, sports-talk shows, cooking shows to mini-documentaries.
As a part of your overall production experience here at John Carroll University, JCTV makes for a great portfolio and resume builder, especially for students majoring in Communication.  TV-4 meets Thursday evenings in OC 7, the TV Studio to record live productions created by students.
For questions contact TV-4's advisor, Will Weaver, wweaver@jcu.edu.