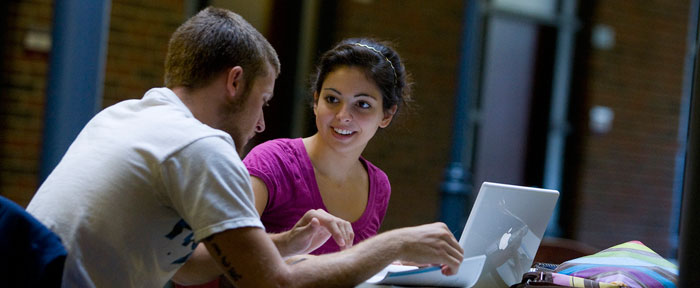 Earning a degree from the Tim Russert Department of Communication and Theatre Arts is more than just completing a series of requirements. As a department, the goals we seek for our students reflect many concepts contained in the University goals.
First, we seek to enable our students to understand and assess the many ways that people communicate.
Second, a graduate of the department should have the ability to speak, think, and write critically, clearly and creatively.
Third, students in the department should be able to present their ideas in a variety of communicative media and technologies.
Fourth, our students should be able to develop and integrate sound ethical principles in their communicative practices.
Fifth, course work should train students to work well as individuals, as team members and as leaders.
Finally, students enrolled in courses in the Tim Russert Department of Communication and Theatre Arts should gain experience in the analysis, synthesis, and evaluation of problems and their solutions.
The department fulfills these goals for majors by requiring them to achieve breadth in their studies in keeping with the University mission of the transmission and extension of the treasury of human knowledge. Majors demonstrate this breadth by successfully completing a required series of courses in interpersonal communication, broadcasting, journalism, argumentation/debate, and theatre. Students expand this knowledge through advanced study in these areas and in rhetoric/public address, intercultural communication, organizational communications, speech science, and public relations. Majors in the department thus move beyond the acquisition of skills to the appreciation of enduring principles of communication traceable to classical culture and the Ratio Studiorum of Saint Ignatius Loyola.
You will be challenged to master both classroom theory and practical application, to write and speak effectively, and to think critically and ethically.
Russert Department Vision Statement, Mission Statement and Learning Outcomes