Join us for the Spring Main Stage Theatre Production of Vanya & Sonia & Masha & Spike
This comedy play written by Christopher Durang. The story revolves around the relationships of three middle-aged single siblings, two of whom live together,
and takes place during a visit by the third, Masha, who supports them. They discuss their lives and loves, argue, and Masha threatens to sell the house.
Some of the show's elements were derived from works of Anton Chekhov, including several character names,
the play's setting in a cherry orchard, and the theme of the possible loss of an ancestral home.
Performances on Friday March 31st @ 7:30 pm
Saturday April 1st @ 7:30 pm
Friday April 7th @ 7:30 pm
Saturday April 8th @ 7:30 pm
And Sunday April 9th @ 2pm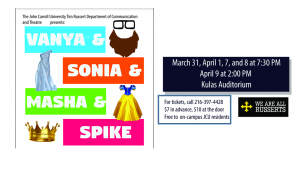 All Performances are held in Kulas Auditorium
For Tickets call: 216-397-4428
$7 in advance          $10 at the door
FREE ADMISSION to On-Campus JCU Students!
Posted on March 20, 2017