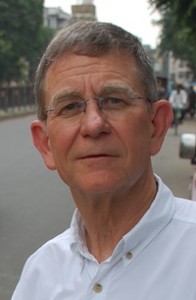 John Carroll University has been awarded a Woodrow Wilson Fellow.  Joseph B. Treaster  visited John Carroll University the week of September 24, 2012.  He offered a public lecture, "The Worldwide Water Crisis," on Wednesday, September 26, 2012 at 7 p.m. in the Donahue Auditorium of the Dolan Science Center.
Treaster is a specialist on the environment, the evolution of journalism in America in the age of the Internet, social media and world affairs.  He holds an endowed chair at the University of Miami in cross-cultural communication, writes a weekly column called Water and the World for Huffington Post.com, True/Slant.com, and others and is a contributor to The New York Times and the Miami Herald.  He is the editor of 1H2O.org, the University of Miami's Internet magazine on the worldwide water crisis.  As editor, Treaster works to raise awarness of the deteriorating state of the world's water and to advance cross-cultural understanding.
He lectures around the world, most recently in India, Sri Lanka, Argentina, and Kenya.  Treaster, a former reporter and foreign correspondent for The New York Times, is also the coordinator of The New York Times' hurricane blog, Eye of The Storm.  He continues to contribute to the newspaper as well as developing other cross-cultural projects as the John S. and James L. Knight Chair in Cross-Cultural Communication.
Posted on August 20, 2012