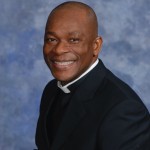 John Carroll University's Tim Russert Department of Communication and Theatre Arts is proud to share that Fr. Maurice Emelu, Class of 2012G, has been given the go ahead for a new show on EWTN Network entitled The Faith with Fr. Maurice.  This 13 episode series will be aired weekly on EWTN Cable Network. The shows will be recorded from Monday, August 27 through Thursday, August 30, 2012 at the EWTN Global Catholic Network Headquarters, 5817 Old Leeds Road, Irondale, Alabama.
On Wednesday, August 29, Fr. Maurice will be the guest on EWTN LIVE with Fr. Pacwa to help promote his new show.  Fr. Maurice is a citizen of Nigeria and is the first African to host a program on EWTN.  EWTN is broadcast in over 125 countries.
If you are interested in being a part of the diverse live studio audience, contact Jeanne Curran at jeannemcurran@aol.com or Fr. Maurice Emelu at emelumaurice@yahoo.com.
Posted on March 19, 2012