LTC Matthew K. Johnson
Professor of Military Science
email:  mjohnson@jcu.edu  
•

phone: 216-397-4354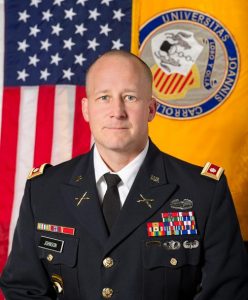 LTC Matthew K. Johnson was commissioned as a Second Lieutenant in Field Artillery from the United States Military Academy West Point in 1997.
LTC Johnson received his Bachelors of Science degree from West Point and his MA in International Relations from Creighton University. His professional education includes: the Basic and Advance Field Artillery Officer Course, Command and Services Staff School, Air Assault and Airborne Schools, the Ranger Course, and the Command and General Staff College. He is a veteran of three combat deployments.
His first assignment was with 2nd Battalion, 3rd Field Artillery Regiment in Giessen, Germany where he served as Company Fire Support Officer and Platoon Leader.  While in Germany, he deployed to Kosovo and served as Platoon Leader and Battery Executive Officer conducting security operations.  He then attended the Field Artillery Advanced Course and the Command and Services Staff School, followed by assignment to 2nd Battalion, 320th Field Artillery Regiment, 101st (AASLT) Airborne Division at Fort Campbell, KY.  CPT Johnson served as a Battalion Fire Support Officer with the Screaming Eagles and in 2003 deployed to Iraq in support of Operation Iraqi Freedom (OIF).  While in Iraq, he assumed command of A Battery, 2-320th FA.  Upon completion of command and redeployment, he served as the Assistant Brigade Fire Support Officer in 1st BDE, 101st (AASLT) ABN.  In 2005, CPT Johnson was assigned as an Assistant Professor of Military Science at Creighton University in Omaha, NE where he developed leadership in Cadets for 3 years.
At the conclusion of duties in ROTC in 2008, he took responsibility as Team Leader for a Military Transition Team- Iraq.  Major Johnson again deployed to Baghdad, Iraq to advise three different Iraq police battalions and a brigade headquarters.  Upon return from his second Iraq deployment, MAJ Johnson attended the Command and General Staff College (CGSC) at Ft. Leavenworth, KS.  Following CGSC, in 2010, he was assigned to Joint Base Lewis-McChord, WA where he served as the 2nd Battalion, 17th Field Artillery Regiment Executive Officer.  While serving in this capacity, he deployed with the battalion to Afghanistan in support of Operation Enduring Freedom (OEF) in 2012.  Following his time in 2-17 FA and the 2nd Stryker Brigade Combat Team, he served as the I Corps Deputy Fire Support Coordination Officer.  As the deputy, LTC Johnson participated in operational and strategic exercises in Australia, Korea, Thailand, and Japan.  In 2014, LTC Johnson was selected as the Professor of Military Science at John Carroll University in Cleveland, OH, responsible for the ROTC programs at several universities and colleges in the greater Cleveland, OH area.
He has earned the Bronze Star Medal with 2 Oak Leaf clusters, the Meritorious Service Medal with 3 Oak Leaf Clusters, an Army Commendation Medal with V (Valor) Device, and the Combat Action Badge.
He is married to Natalie and has four children, daughters Seeley, age 9, Nola, age 5, and 2-year old twin boys, Leo and Ollie.
---
MSG Royce Achterberg
Senior Military Instructor (SMI)
email:  rachterberg@jcu.edu  • phone: 216-397-6203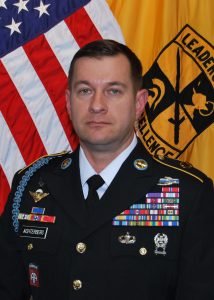 MSG Royce Achterberg hails originally from Houston, Texas. After graduating from High School, he joined the Army in 1997.  He attended basic training, Advanced Individual Training and Airborne School at Ft. Benning, GA.
He has deployed to Haiti, Kosovo, Afghanistan, Kuwait, Iraq and Syria. Notable missions in Afghanistan include support of Operation Enduring Freedom and the 2005 Afghan Presidential Elections.  Significant operations in Iraq include the initial invasion in 2003, a Special Operations mission in 2006, the 2007 Surge and most recently in the fight against ISIS.
In 2016 he was selected to lead the Headquarters Company for the Combined Joint Task Force – Operation Inherent Resolve; leading, guiding and mentoring over 1,200 Service and Coalition Members in Kuwait, Iraq and Syria.  
MSG Achterberg has a record of top leadership performance in both personnel and operations management.  He has been deployed as a key leader conducting combat operations in multiple areas of responsibility with experience in linear, asymmetric and unconventional operations.
"I am always seeking ways to improve the efficiency, productivity
and quality of an operation – whatever it may be."
MSG Achterberg places a premium on maximizing time, resources and human potential.  In his new role as SMI he hopes to use his extensive leadership background to inspire Cadets to exceed their own expectations in negotiating obstacles, accepting challenges and in setting/achieving goals on both an individual and collective basis.
His skills and coursework include:
Leadership Development & Strategic Planning

Team-building (motivation, morale)

Training and Project Management

Public Speaking and Interpersonal Communication

Developmental Counseling

Systems planning, organization and implementation

Warrior Leaders Course; Advance Leaders Course; Senior Leaders Course and Antiterrorism Officer Basic Course 



Among his many awards are a Bronze Star, Purple Heart and an Army Commendation Medal for Valor.  Also notably, MSG Achterberg was inducted into the Order of Saint Maurice at the Centurion level for his contributions to the Infantry.  He is a seasoned Jumpmaster that has earned his Senior Parachutist Wings as well as the Ukrainian, German, Egyptian, Pakistani, Kuwaiti and El Salvadorian Parachutist Badges.
MSG Achterberg has been married to his wife Melissa since December 2008 and has two children. 
---
LTC Eric Krantz
Assistant Professor Military Science (APMS)
email: ekrantz@jcu.edu  • phone: 216-397-4476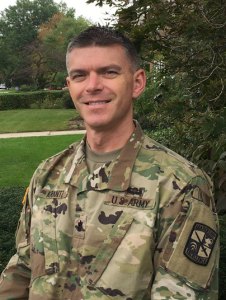 LTC Eric Krantz was commissioned as a 2LT in 1996 from JCU's Wolfpack! He holds BS/BA degrees from JCU. In 2001 he received an MA in Organizational Security. He  commanded at the company and battalion level and has accumulated a lifetime of global experience. He's served in every component including 1st Army, Human Resources Command and the Pentagon G3/5/7.
In his spare time, he is an entrepreneur, growing a real estate investment company and a leadership training consulting firm. He enjoys the outdoors, coaching youth sports and occasionally works as a PADI Divemaster with over 1,000 volunteer hours.
While LTC Krantz has had deployments to Bosnia, Korea, Iraq and Kosovo, he now resides in Hudson. LTC's wife Nancy is (JCU/ROTC '99 & CSU '02 JD) is a combat veteran! The Krantz' along with their 2 children are excited to rejoin the Wolfpack!
---
Major Andrew Bischoff
Assistant Professor of Military Science
email: abischoff@jcu.edu   •  phone: 216-397-4392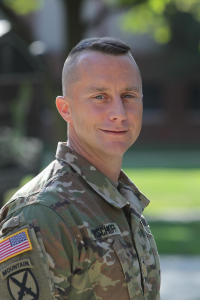 MAJ Andrew Bischoff was commissioned as a 2LT in the Corps of Engineers. He has an undergraduate degree in Civil and Environmental Engineering he has his MA in Civil Engineering. He is a certified Project Management Professional.  His military education includes the Engineer Officer Basic Course, Engineer Captains Career Course and the Department of Defense Public Affairs Officer Qualification Course.
Major Bischoff deployed to Iraq, Kuwait and Afghanistan in addition to having roles domestically. His awards include the Army Commendation & Army Achievement Medals, the NATO Medal, the Parachutists Badge and the Ranger Tab.
He resides in Chesterland and is married to Kimberly and they are expecting their first child!
---
Major Timothy Jenkins
Assistant Professor of Military Science
email:  tjenkins@jcu.edu  •  phone: 216-397-6211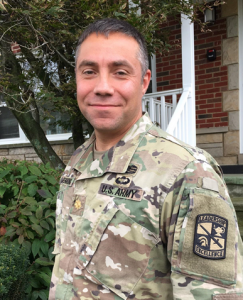 MAJ Timothy Jenkins was commissioned as a 2LT in 2003 to the Chemical Corps. In 2006, he transferred to Military Intelligence Corps.
He has a Bachelor's of Science degree from Marshall University and his professional education includes: Primary Leadership Development Course, the Chemical Officer Basic Course, the Military Intelligence Officer Advance Course, the Command and General Staff College, the Anti-Terrorism/Force Protection Course and Airborne School.
MAJ Jenkins deployed to Kuwait and Turkey where he served as Intelligence Planner for the Allied Land Command of NATO. His awards include the Global War on Terrorism Service Medal and the Humanitarian Service Medal.
MAJ Jenkins served as the Military Intelligence Trainer for the Field Artillery Battalion at the National Training Center. He also was a Military Intelligence Adviser for the Iraqi Military/Border Patrol on a Military Transition Team in Iraq. He participated in the Earnest Leader Exercise as a Brigade Intelligence Officer Adviser to the Saudi forces in Saudi Arabia.
MAJ Jenkins is married to Rania and they live in Avon with their 4 children.
---
MAJ Matt McGraw:
Assistant Professor of Military Science
email:  mcgraw@jcu.edu  •  phone: 216-397-4476
MAJ Matt McGraw is an Army Reserve Officer and both former and current Wolfpack Cadre member! He commissioned via the ROTC program at the University of Toledo and was assessed into the Army Aviation branch. While on Active Duty, he served in Korea and Iraq. He is a rated a Senior Aviator in the OH – 58D Kiowa Warrior Helicopter, and has logged in excess of 1,000 combat flight hours while serving multiple tours in support of Operation Iraqi Freedom. His awards and decorations include the Army Air Medal. In addition, he served as an ROTC instructor right here at JCU several years ago.
He said, "I found tremendous pride and fulfillment in working with our Cadets who all worked hard to progress their skills in order to raise their right hand and serve something bigger than themselves…"
In his civilian career, MAJ McGraw is the Senior Director of Sales Operations and Effectiveness for Moen Inc. He holds an MBA from JCU's Boler School of Business. He resides in Avon, OH with his wife Katherine and their three sons. In his free time he enjoys all things involved with raising three strapping boys!
---
Mr. John J. McCluskey Jr.
Wolfpack Battalion Recruiter
email: jmccluskey@jcu.edu   •  phone: 216-397-4286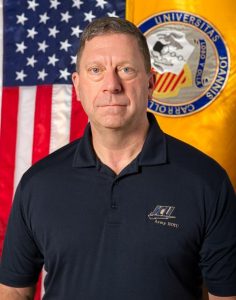 Born in Stroudsburg, Pennsylvania, 19 Feb 1956, he graduated from Penn State in 1978 and commissioned as an Ordnance Officer. He received his M.B.A. from Cleveland State in 2002.
He is a graduate of the Ordnance Officer Basic & Advanced Courses, Airborne Course, CAS3 and the Command and General Staff College.
He has been assigned to several posts in the U.S., to include Alaska and Hawaii, as well as Germany, Saudi Arabia, and Korea. He retired from the Army after 28 years of service.
His awards include the DMSM, MSM (3 OLC), JMUA, ARCOM, JSAM, AAM and other service medals.
Mr. McCluskey is married to MAJ Beth McCluskey (nee Reilly) of South Euclid, Ohio, and they have two sons, Jack (23) a 2LT in the USAR and Pat (21) who is a senior ROTC cadet at St. Joseph's University.