LTC Matthew K. Johnson
Professor of Military Science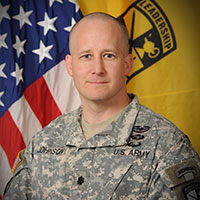 LTC Matthew K. Johnson was commissioned a second lieutenant in the Field Artillery from the United States Military Academy in 1997.  His first assignment was with 2nd Battalion, 3rd Field Artillery Regiment in Giessen, Germany where he served as Company Fire Support Officer and Platoon Leader.  While in Germany, he deployed to Kosovo and served as Platoon Leader and Battery Executive Officer conducting security operations.  He then attended the Field Artillery Advanced Course and the Command and Services Staff School, followed by assignment to 2nd Battalion, 320th Field Artillery Regiment, 101st (AASLT) Airborne Division at Fort Campbell, KY.  CPT Johnson served as a Battalion Fire Support Officer with the Screaming Eagles and in 2003 deployed to Iraq in support of Operation Iraqi Freedom (OIF).  While in Iraq, he assumed command of A Battery, 2-320th FA.  Upon completion of command and redeployment, he served as the Assistant Brigade Fire Support Officer in 1st BDE, 101st (AASLT) ABN.  In 2005, CPT Johnson was assigned as an Assistant Professor of Military Science at Creighton University in Omaha, NE where he developed leadership in Cadets for 3 years.
At the conclusion of duties in ROTC in 2008, he took responsibility as Team Leader for a Military Transition Team- Iraq.  Major Johnson again deployed to Baghdad, Iraq to advise three different Iraq police battalions and a brigade headquarters.  Upon return from his second Iraq deployment, MAJ Johnson attended the Command and General Staff College (CGSC) at Ft. Leavenworth, KS.  Following CGSC, in 2010, he was assigned to Joint Base Lewis-McChord, WA where he served as the 2nd Battalion, 17th Field Artillery Regiment Executive Officer.  While serving in this capacity, he deployed with the battalion to Afghanistan in support of Operation Enduring Freedom (OEF) in 2012.  Following his time in 2-17 FA and the 2nd Stryker Brigade Combat Team, he served as the I Corps Deputy Fire Support Coordination Officer.  As the deputy, LTC Johnson participated in operational and strategic exercises in Australia, Korea, Thailand, and Japan.  In 2014, LTC Johnson was selected as the Professor of Military Science at John Carroll University in Cleveland, OH, responsible for the ROTC programs at several universities and colleges in the greater Cleveland, OH area.
LTC Johnson has a Bachelors of Science degree from the United States Military Academy and a Masters of Arts degree in International Relations from Creighton University.  His Professional education include: the Basic and Advance Field Artillery Officer Course, Command and Services Staff School, Air Assault and Airborne Schools, the Ranger Course, and the Command and General Staff College.  He is a veteran of three combat deployments.  He has earned the Bronze Star Medal with 2 Oak Leaf clusters, the Meritorious Service Medal with 3 Oak Leaf Clusters, an Army Commendation Medal with V (Valor) Device, and the Combat Action Badge.  He is married to Natalie and has four children- daughters Seeley, age 7, Nola, age 3, and twin boys- Leo and Ollie, age 7 months.
---
Mr. John J. McCluskey Jr.
Wolfpack Battalion Recruiter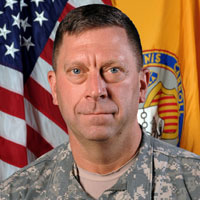 Born in Stroudsburg, Pennsylvania, 19 Feb 1956, he graduated from Penn State in 1978 and commissioned as an Ordnance Officer. He received his M.B.A. from Cleveland State in 2002.
He is a graduate of the Ordnance Officer Basic & Advanced Courses, Airborne Course, CAS3 and the Command and General Staff College.
He has been assigned to several posts in the U.S., to include Alaska and Hawaii, as well as Germany, Saudi Arabia, and Korea. He retired from the Army after 28 years of service.
His awards include the DMSM, MSM (3 OLC), JMUA, ARCOM, JSAM, AAM and other service medals.
Mr. McCluskey is married to MAJ Beth McCluskey (nee Reilly) of South Euclid, Ohio, and they have two sons, Jack (23) a 2LT in the USAR and Pat (21) who is a senior ROTC cadet at St. Joseph's University.
---
Major James W. Sanders
MAJ James W. Sanders went to basic training at Ft. Leonardwood, Missouri in 1996. He graduated from Utah State University with a Bachelor of Science Degree in Political Science and served an internship with United States Senator Orrin Hatch (R) Utah. He received his commission as a lieutenant in August 1997 as a Field Artillery Officer.
MAJ Sanders' first assignment was with the 4th Battalion, 1st Field Artillery Regiment at Ft Riley Kansas. Other assignments while at Ft Riley include: Assistant Brigade S4 and ASL Platoon Leader. After his active military service MAJ Sanders transitioned to the US Army Reserve. While serving in the reserves he deployed to Iraq as part of the leadership operating the Theater Ammo Supply Point (ASP) with 189th ORD Company.
After his deployment MAJ Sanders accepted an Active Guard Reserve (AGR) position with an initial assignment as the Battalion S3 for the Denver recruiting Battalion. MAJ Sanders has served as a Company Commander, with HHC 205th INF BDE, at Camp Atterbury, IN, Course Director for the Army Reserve Readiness Training Command (ARRTC) at Ft McCoy, WI, and most recently as the Division Training Officer (G3/7), 310th Expeditionary Sustainment Command (ESC) in Indianapolis, IN. While serving with the 310th ESC, MAJ Sanders graduated from Command and General Staff College August 2013.
MAJ Sanders' awards and decorations include the Meritorious Service Medal with two Oak leaf cluster, Army Commendation Medal with three Oak leaf clusters, the Army Achievement Medal with one Oak leaf cluster, the National Defense Service Medal, the Iraq Campaign Medal, Global War on Terrorism Service Medal, the Armed Forces Reserve Medal with M device, the Reserve Overseas training Medal, the Overseas Service Ribbon with the Bronze numeral 2 device, the Army Service Ribbon, and the Meritorious Unit Commendation.
MAJ Sanders is married to Stephanie M. Sanders of Snohomish, Washington. They currently reside in Norton, Ohio with three of their four sons, Kirk, Kent, Erik, and Kade; and one daughter Elizabeth.
---
Sergeant Major Frederick Carmicle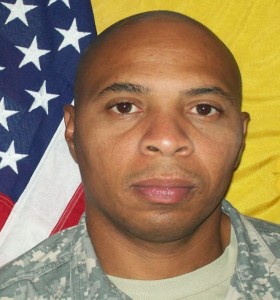 Sergeant Major Frederick Carmicle is a native of Cleveland, Ohio.
He entered the U.S. Army 30 Oct 1990, where he completed Infantry Basic Training and Advanced Individual Training at Fort Benning, Georgia.
Assigned to 3/47thIN (9th INF DIV),  1/72 AR,(2nd INF DIV),  3/69 AR,  (3rdINF DIV),  4/12 INF (1stArmored DIV USAREUR) ,  101st Airborne Division (Air Assault),  Joint Readiness Training Center, FT Polk La;  2/1 ( 1stAR DIV); The Brigade Modernization Command (BMC) and 2/504 PIR, 1st BCT 82nd ABN DIV.
Sergeant Major Carmicle has served in Squad leader, Section Sergeant, Platoon Sergeant, Heavy Weapons Company First Sergeant and Brigade Headquarters First Sergeant, Brigade Modernization Command (U.S. Army Training and Doctrine Command) Operations Sergeant Major, 1st BDE 82nd PIR Brigade Operations Sergeant Major and the Operations Sergeant Major 2-504 Parachute Infantry Regiment 82nd ABN DIV.
His military education includes:  Warrior Leader Course; Advance Leader Course; Senior Leader Course; First Sergeant Course and the United States Army Sergeants Major Academy.  Additionally, Sergeant Major Carmicle military education includes Airborne School; Air Assault School; Rappel Master; Infantry Mortar Leader Course; EO Advisor Course and the Instructor Trainers Course.
Sergeant Major Carmicle has operational deployments to: Iraq, Bosnia, Kosovo, and Afghanistan.
Sergeant Major Carmicle awards and decorations include:  Bronze Star Medal; Meritorious Service medal; Army Commendation Medal; Army Achievement Medal; Army Good Conduct medal; National Defense Service Medal; Korea Defense Service Medal; Armed Forces Expeditionary Medal; Southwest Asia Service Medal; Iraq Campaign Medal; Global War on Terrorism Service Medal; Armed Forces Service Medal; Army Service Ribbon; Army Overseas Service Ribbon; NATO Ribbon; Combat Infantryman Badge; Expert Infantryman Badge; Parachutist Badge; and the Air Assault Badge.
Sergeant Major Carmicle is married to former Michelle Renee Milner of Cleveland, Ohio; together they have three children Jaylen, Kayla, and Nyla.
---
Master Sergeant Travis Leonhardt
MSG Travis Leonhardt is a native of Ohio.
He entered the U.S. Army 06 Jun 1997, where he completed Infantry Basic Training and Advanced Individual Training at Fort Benning, Georgia.
MSG Leonhardt has served in Squad leader, Scout Team Leader, Sniper Section Leader, Rifle Platoon Sergeant, Scout Platoon Sergeant, Rifle Company First Sergeant and Headquarters and Headquarters Company First Sergeant,
His military education includes: Warrior Leader Course; Advance Leader Course; Senior Leader Course; First Sergeant Course. Additionally, Master Sergeant Leonhardt's military education includes Airborne School; Air Assault School; Pathfinder School; Rappel Master; Drill Sergeant; Sniper School; LRSLC; EO Advisor Course; Anti-Terrorism Level 2 course and the Instructor Trainers Course.
MSG Leonhardt has operational deployments to: Iraq, and Afghanistan.
Master Sergeant Leonhardt's awards and decorations include: Bronze Star Medal; Meritorious Service Medal; Army Commendation Medal; Army Achievement Medal; Army Good Conduct Medal; National Defense Service Medal; Korea Defense Service Medal; Iraq Campaign Medal; Global War on Terrorism Service Medal; Global War on Terrorism Expeditionary Mead, Afghanistan Campaign Medal, Army Service Ribbon; Army Overseas Service Ribbon; NATO Ribbon; Combat Infantryman Badge; Expert Infantryman Badge; Parachutist Badge; Pathfinder Badge and the Air Assault Badge