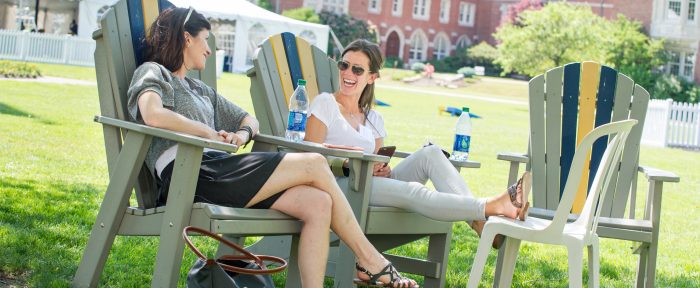 ---
Information you need to know for Reunion Weekend 2018. 
How do I register for Reunion Weekend?
Reunion registration forms will be mailed out in April. Simply fill out the registration form and return it to the Alumni Office or go online to register. Online registration will be available April 1st.
Will I be able to stay on campus?
On-campus housing is available in our residence halls for our Reunion participants, however, space is limited. Reservations are required and can be made through the registration form. Rooms accommodate two people. (Advance reservations are required.)
What is provided for me in the residence halls?
Our housing staff provides each guest with linens, pillows, blanket, towel and washcloth for each person. These supplies are not replenished daily. You may wish to bring extra towels, clothes hangers, shower sandals, an iron, a small reading lamp or an alarm clock. Laundry facilities are available in the basement of each residence hall.
Where do I check in once I arrive on campus?
Once you arrive on campus, check in at the Schott Atrium of the D.J. Lombardo Student Center. All alumni and guests must pick up their registration materials,
including name tag, meal tickets, weekend schedule, and room key (if staying on campus).
If I arrive early on Friday, where can I get something to eat?
Lunch on Friday is included in the Weekend package and can be purchased al la carte.
Is there transportation throughout the weekend?
We do not offer transportation throughout the weekend, however, if you choose you may rent a car through Enterprise to receive the John Carroll rental rate. Uber and Lyft are available in the Cleveland area, including to and from the airport.
How do I receive a discount on a car Rental?
A discount is offered to JCU Alumni through Enterprise Rent-A-Car. Simply visit enterprise.com and ender the code: XZ39073 into the coupon, customer or corporate number box. Then enter JOH for the company pin number. From there you will be able to select a car of your liking.
Is there Internet access?
The residence halls feature wireless internet access. Computers are also located in the DJ Lombardo Student Center and will be available throughout the weekend.
Will the Bookstore be open during Reunion Weekend?
Yes, the Bookstore will be open during the weekend. Check out the full array of Blue Streak merchandise for sale.
Is there a dress code for Reunion Weekend?
Dress for the weekend is summer casual. Dress for Saturday's class dinner is cocktail attire. Please check the Cleveland forecast prior to packing, as the weather varies in June.
Are children invited to participate in the Reunion events?
Enjoy family programming during the day and sign your children up for the Blue Streak Kids Club at night. In conjunction with The Nanny Connection, on Friday and Saturday evening from 5:00 p.m. – midnight, JCU will offer childcare to children ages 4-15. Parents can check in children beginning at 5:00 p.m. in the JCU IM Gym. They will enjoy dinner in the Schott Dining Hall, followed by a variety of activities, including swimming, crafts, games, movie, etc. while you enjoy the evening connecting with classmates.  Advance reservations are requested.
Drink tickets are sold through the weekend
Drink tickets will be sold (cash only) for the purchase of all alcoholic beverages throughout the weekend. You can purchase drink tickets before the weekend through registration. One complimentary drink ticket will be provided to be used at the class dinner for those selecting a package or à la carte dinner. All drink tickets that are purchased are nonrefundable.
Will the Rec Center be open during Reunion Weekend?
Yes, the Recreation Center will be open on a limited schedule during Friday and Saturday of Reunion Weekend. Facilities include, racquetball courts, and cardio equipment are available for alumni use.
Is there a location to gather and hang out during the weekend?
The Hospitality Tent will be available throughout the weekend to gather with friends and socialize.
I require special accommodations or have dietary needs.
If you require special assistance or accommodations during the weekend, please contact the Office of Alumni Relations at 216.397.1592 to make advance arrangements. If you have special dietary restrictions, please note them on the reservation form.
What is the pricing for the weekend?
A weekend package which includes all meals Friday lunch – Sunday brunch, a room on campus, reunion souvenir and class photo is offered.
$250 per person (Before May 8)
$300 per person (After May 8)
A La Carte Items are also available pricing is as follows:
Friday Lunch: $12/person (before May 8) $15/person (after May 8)
Friday Dinner : $30/ person (before May 8)  $35/person (after May 8)
Saturday Breakfast: $10/ person (before May 8)  $12/person (after May 8)
Saturday Lunch: $18/ person (before May 8)  $22/person (after May 8)
Saturday Dinner: $50/ person (before May 8)  $60/person (after May 8)
Sunday Brunch: $18/ person (before May 8)  $22/person (after May 8)
Class Photo: $18/photo
Reunion Souvenir: $15/souvenir
Room per night: $65/room per night ($130 for Friday and Saturday Night)
Have questions not answered here, or need more information? Contact the Office of Alumni Relations: 216.397.1592 or email reunion@jcu.edu