Roberto Santosdiaz Jr. '11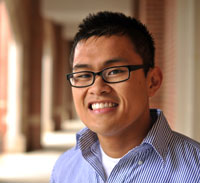 During his time majoring in both East Asian studies and economics, Roberto was awarded numerous scholarships and awards, including one of only 28 of the nationwide Hispanic Scholarship Fund award for future leaders in business studies. During his final semester at JCU, Roberto was awarded a prestigious Fulbright English Teaching Assistantship fellowship to teach English in South Korea. As a Fulbright grant recipient, he served as a U.S. cultural ambassador and instructed more than 600 students at Daejeon Jeonmin Middle School in conversational English, grammar, and composition. And that's just the beginning of his story. Hear more of Roberto's story here.
Steve McLean '11

 Steve envisioned pursuing a business degree, but wasn't quite sure which major he would choose.  After taking an economics course his freshman year, he saw the field through a broader lens of learning. That perspective proved beneficial to selecting economics as his major and eventual career path.
"Economics is a good balance between politics, psychology, current events, and critical thinking," Steve said. "Everything is not 'black and white.' There are gray areas, and I liked that."
While a student in the Boler School, Steve gained experience with economics in real-world business scenarios. He interned with PNC the summer before his senior year. Upon completing the internship, he had a job offer from PNC to work full time after graduation in the Capital Markets Group on the Foreign Exchange desk.  He has since moved to Boston to work for Putnam Investments.
In addition to acknowledging professors who readily assisted with coursework and career advice, Steve credits the Jesuits' influence on his educational development.  Their view of the world and their ability to think critically and reflect profoundly left a lasting impression on both his career and personal outlook.