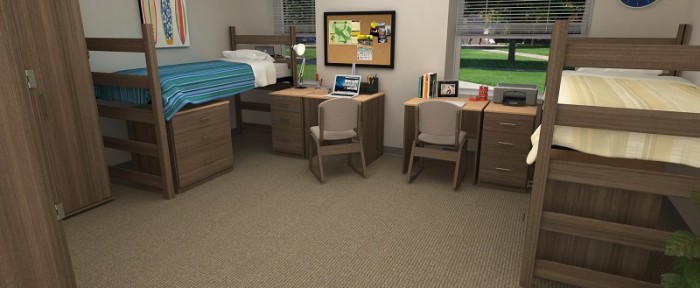 Room Types
First Year students will be able to preference several types of rooms listed below.  Students' preferences will be considered based on the date and time of their acceptance of the housing contract.  You are not required to select a room preference.  To learn more about price differences, please see the Room and Board Rates.
Single – Located on the 3rd floor or Dolan and Pacelli and the basement of Pacelli, limited numbers of single rooms will be available to students who do not wish to have a roommate.  The single rooms come with the following furniture:
Double – The majority of rooms in Campion, Dolan, and Pacelli are double rooms.  The double rooms come with the following furniture for each resident:
Triple – Looking to have two roommates or to save some money?  Campion Hall will have a limited number of triple rooms available for first-year students.  The triple rooms are located in the corners of the building, where the room design makes it easy to have three residents live.  Triple rooms come with the following furniture for each resident:
Living Preferences
First Year students have several different housing options to choose from when completing their application.  In addition to general housing, students can indicate to live in the following communities:
**Selecting a living preference is indicating your preference, but does not guarantee placement.**
Honors Housing
The Honors floor is an opportunity for first-year students in the Honors Program to live in an engaging environment that is supportive of their academic and social needs exclusively for first-year students.  The members of the Honors floor will be able to participate in specialized programming and connect with others in the program outside of class.  The Honors students who choose to live on this floor can have a roommate who is not in the Honors Program.
If you are interested in living on this floor and have been accepted into the Honors Program, please select it on your MyHousing application.
For more information on the Honors Program click here. 
Healthy Living Floors 
The Healthy Living floors are available to students who are interested in living a healthy lifestyle, focused on physical and mental well-being. Students on these floors can engage in special programming opportunities such as visiting with a nutritionist or physical trainer; practicing meditation and yoga; visiting area organic food stores; and participating on intramural teams. These floors are also free from alcohol, tobacco, and other drug use.
There are no designated floors for substance-free living. These floors are created based on the number of residents who request to live there. If we do not have enough people to fill a floor, we will try to cluster those students at the end of a hallway. We typically are able to fill at least one floor in every residence hall with students who request to live in this environment.
If you are interested in living on this floor, please select it on your MyHousing application.