Selecting Roommates & Things to Remember
Roommate selection will begin on February 23rd at 10:00 a.m. and will continue to be available until the completion of room selection.
Selecting a Roommate
To select a roommate, log in to MyHousing and place your mouse over the Room Selection menu option on the Navigation Panel. A drop down menu should appear. Select the "Roommate Selection" option.
Select the Fall 2015 term and click continue.

If the screen informs you that you are not eligible to submit roommate requests, it could be because you or your intended roommate did not accept your housing agreement online. If you have any questions please feel free to contact our office. Below is the screen you should receive.
You can search for a roommate by filling in some or all of the form displayed on this page. You do not need to fill in all fields.

Once the system has identified the intended roommate searched, they are automatically added as a requested roommate.  In the screen below you can see your requested roommate and remove them or send them a message.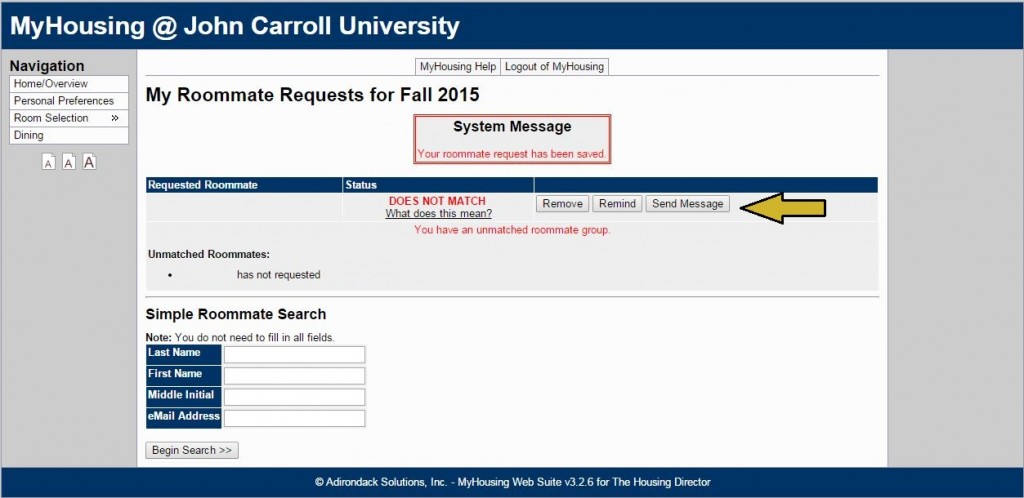 No Matching Students Found
If you receive the message that "No matching student was found", it may indicate one of the following situations:
You misspelled your desired roommate's name.

You used a nickname and not his/her actual name.

They are not eligible for room selection.

They are of the opposite gender.

Rising sophomores will only be able to select other rising sophomores.

Rising juniors or seniors will only be able to select other rising juniors or seniors.
About Selecting a Roommate and Roommate Status
When you add a roommate, the student you requested will receive an e-mail informing them that you have selected them as a roommate. Until the student accepts you as a roommate, your roommate request will be marked as "Does Not Match." Thus, you will need to communicate with all of your roommates to request and accept one another. Do not panic if you receive a "Does Not Match," especially if you are waiting for one of your roommates to log onto the system and confirm you in return. You will receive the "Does Not Match" until all requests confirm one another.
It is required that all of your roommate requests are marked as "Matches" in order for your roommate group to be complete.  If your roommate request's status is "Not Eligible" or "Student Assigned," you should not select this student as a roommate, because he/she will not be able to participate in room selection.
To confirm or decline a roommate request, go to the Room Selection menu option on the Navigation Panel.  Select the "Roommate Selection" option.  This is where you decline, confirm or send a message.

Here is an example of a requested roommate that has not been confirmed: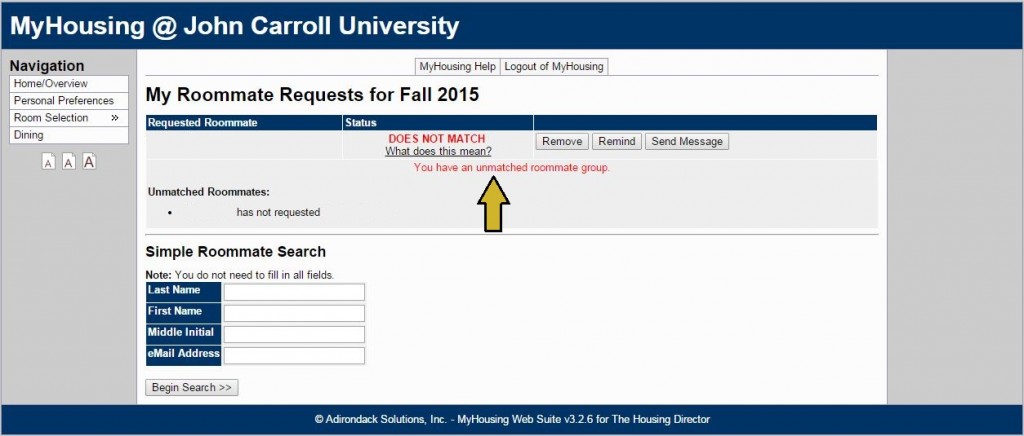 Here is an example of a requested roommate that has been confirmed: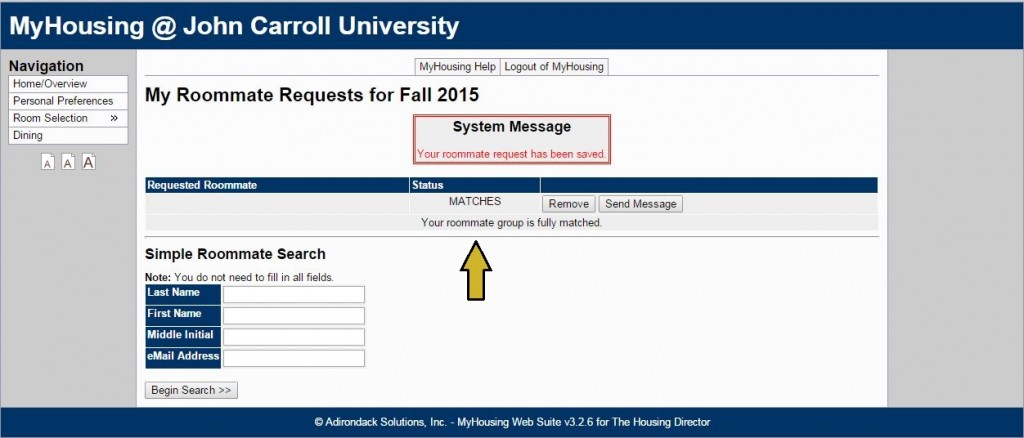 Again, if your roommate group is not fully matched, you will NOT be able to view or select the desired accommodation when your selection time is activated.
For example, if you are interested in a 4-person Bernet Suite, each student will have to select and confirm or request three other mutual roommates in order to be eligible to select the 4-person Bernet Suite.
Remember all of the housing options require you to fill all beds in a room/suite/duplex to capacity.
Remove a Roommate
If you need to remove a roommate, simply click the "Remove" button next to that student. He/she will be informed that they were removed as a roommate.
Roommate Needed
If you have not been able to identify a roommate but need one please attend the roommate matching events.  There is also a roommate needed list available in the Office of Residence Life.
---