Lisa Brown Cornelius
Director of Residence Life
Email – lmbrown@jcu.edu
Lisa joined the Office of Residence Life in 2011.  Lisa has held the positions of associate director and assistant director of residence life at Xavier University where she has worked since 2003.  Prior to that she served as an area coordinator at the University of Dayton.  She holds a bachelor's degree in English and History from Xavier University and a master's degree in student affairs administration from Michigan State University.  Lisa is actively involved in the Jesuit Association of Student Personnel Administrators.
---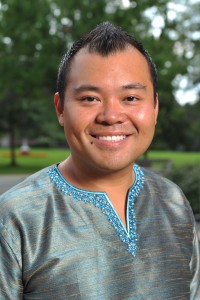 Lord Edwin "Eddie" J. Carreon
Associate Director of Residence Life for Residential Education
Email – lcarreon@jcu.edu
Eddie joined the John Carroll University community in the summer of 2012.  He previously served in the Residence Life offices at Saint Joseph's University and College of the Holy Cross.  He earned his undergraduate and graduate degrees at The Catholic University of America in Washington, DC.  Eddie believes very strongly in the mission and vision of Jesuit Catholic higher education.  Eddie's portfolio includes leading the Residential Education team, directing the Resident Assistant leadership program, coordinating responses to student emergencies and crisis, and leading the recruitment, selection and training of staff.  Eddie also teaches in the Arrupe Scholars and Intergroup Dialogue programs.
---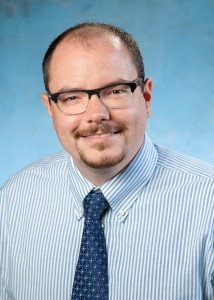 Brendan Dolan
Assistant Director of Residence Life for Housing Operations
Email – bdolan@jcu.edu
Brendan joined the John Carroll University community in the fall of 2014.  He spent the previous six years working within various Residence Life positions at Saint Mary's University of Minnesota in Winona, MN.  He earned his undergraduate degree at John Carroll University in 2008 and his master's degree at Saint Mary's University of Minnesota in Minneapolis, MN.  Brendan is a strong proponent of Catholic Higher Education and mission formation. Brendan focuses on the housing operations within the Office of Residence Life including facilities, coordinating access to the halls, collaborating with the residential Greek communities, and overseeing the residential duplexes and houses.
---
Marie J. Perri
Housing Coordinator
Email – mperri@jcu.edu
Marie joined the Office of Residence Life team in September of 1998.  Prior to working at JCU, she worked for University Hospital's UPCP in the area of pediatrics and child psychology.  Marie oversees all aspects of our housing process including contracts, occupancy, reports, and the room selection process for international, transfer, freshmen, and continuing students.
---
Emily O'Dell
Administrative Assistant
Email – eodell@jcu.edu
Emily joined the Office of Residence Life in January 2013. She received her bachelor's degree in Social Work from Bowling Green State University.  As administrative assistant to the offices of Residence Life and Liturgical Music she is responsible for supervision of work study students, assisting in the administration of departmental budgets, maintaining the Office of Residence Life website, and assistance to the Housing Coordinator.
---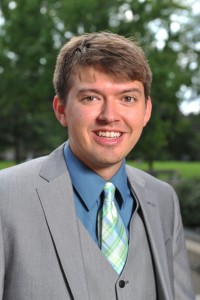 Brendan Braaten
Area Coordinator (Hamlin and Campion Halls)
Email – bbraaten@jcu.edu
Hello! My name is Brendan L. Braaten and I came to John Carroll University in July 2013. I will be serving Campion and Hamlin halls as an Area Coordinator for the 2014-15 academic year. I moved to Ohio from Charlotte, N.C. in 2011 after graduating from Western Carolina University with my M.Ed. in College Student Personnel. I most recently served as an Area Director at the College of Wooster where I was responsible for a residential area of over 800 first-years and Greek-lettered residents, and supervised over 30 student staff members.
I received my B.S. in Public Relations from Appalachian State University in 2009, where my passion for serving students began through my work in the Student ID office on campus. I then graduated from Western Carolina University in 2011 with an M.Ed. in College Student Personnel. At WCU, I served as a Project Coordinator for the Center for Service-Learning where I led several alternative break trips and service projects in the local community. I also served the office as well as an Academic Resource Coordinator for Residential Living, which allowed me to meet with residents who struggled academically and provide educational programming in the residence halls.
In addition to supervising a team of student staff members, I am excited about joining the John Carroll community because of the university's focus on service, its Jesuit identity, and Cura Personalis-care for the whole person.
---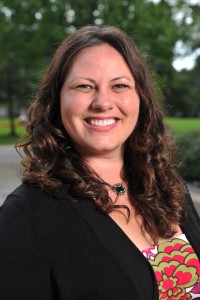 Deanna Strauss
Area Coordinator (Dolan and Pacelli Halls)
Email – dstrauss@jcu.edu
Deanna is the area coordinator responsible for the operation and administration of Dolan and Pacelli Halls and joined our John Carroll University Res Life Team in July, 2013. Deanna earned her associate's degree in Business Management and her master's degree in Higher Education Administration from The University of Akron, and earned her bachelor's degree in Organizational Management from Malone University. Deanna comes to JCU  from The University of Akron, where she served as the Graduate Assistant for Living-Learning Communities (L-LCs) in the department of Residence Life & Housing.  While at Akron, Deanna oversaw the largest student staff and helped with the development of new L-LCs, focused on student success at the freshman and sophomore level. Prior to working in Residence Life, Deanna worked at North Central State College and served as a champion for career center students by helping them think through the decision making process of attending college and finding the right fit, and then navigated the complex process of arranging campus visits, completing college admissions and financial aid/scholarship applications, course registration, and transfer credits personally with the student and their family. Deanna's passion lies in assisting first-year students with the transition to college life and through her work at previous institutions, she has taught the first-year college success seminar for the past four years. As a first-generation college student, she understands first hand many of the struggles students face and her hope is to always be seen as a friendly welcoming face for students, someone who is able to lend a listening ear, or serve as an individual who can help students find needed campus and community resources.
---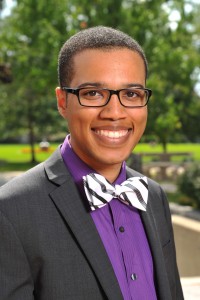 Bernell Nevil III 
Area Coordinator (Millor and Sutowski Halls)
Email – bnevil@jcu.edu
Bernell joined the Office of Residence Life in June 2014.  He is the Area Coordinator overseeing the Millor and Sutowski residential communities.  Before coming to John Carroll, Bernell earned his Bachelor of Science in Business Administration with majors in Organization and Human Resources and Psychology from Washington University in St. Louis.  Throughout his time at WashU, he found a passion for helping students in a variety of roles such as working with orientation, being a tour guide, and being an RA.  He went on to get his Master of Arts in Student Affairs Administration from Michigan State University.  While at MSU, he served as an Assistant Community Director in a residence hall of over 1100 students and supervised a staff of eight Resident Assistants.  Bernell is very excited to join the John Carroll community to help the institution work towards its mission of creating men and women for others.
---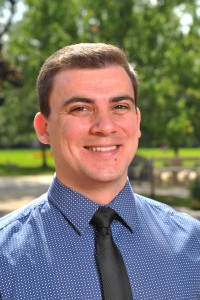 Adrian Tamas 
Area Coordinator (Bernet and Murphy Halls)
Email – atamas@jcu.edu
Originally from Romania, Adrian moved to California in 2003 where he has resided until June, 2014 when he accepted the position at John Carroll.  Adrian joins our team after just recently graduating from Azusa Pacific University, which is located in Azusa, CA with an M.S. in College Counseling and Student Development.
While working on his master's degree, Adrian served as the Intercultural Programming Advisor at Pepperdine University where he advised 14 cultural clubs and organizations, as well as the Coordinator for Community Based Student Development at Azusa Pacific University where he worked with students serving the Azusa community.  Prior to graduating from APU, Adrian graduated from University of California, San Diego (UCSD) with a double B.A. degree in Political Science – International Relations and Urban Studies and Planning.  While studying at UCSD, Adrian served as an RA for 3 years.
In his spare time, Adrian enjoys running, hiking, swimming, traveling, and movies.  Adrian is very excited about joining our dynamic team of Area Coordinators, and ultimately serving the students and staff of Murphy and Bernet Halls!
---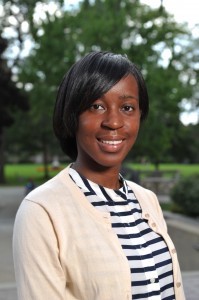 Stephanie Patterson
Community Coordinator (Hamlin hall)
Email – spatterson@jcu.edu
Stephanie joined the Office of Residence Life in July 2014.  She currently serves as the Community Coordinator of Hamlin Hall.  Before coming to John Carroll, Stephanie served as a Community Assistant for a student apartment complex where she planned events, built community with residents, and responded to resident needs while earning her Master's in Media and Communication Studies from Florida State University.  As a member and former chapter president of Delta Sigma Theta Sorority Incorporated, Stephanie is passionate about Greek life and is excited to work with the Greek residents of Hamlin Hall.
---
Contact Information:
Email:  jcureslife@jcu.edu
Phone: 216-397-4408
Fax: 216-397-4919
Address: 1 John Carroll Boulevard University Heights, Ohio 44118