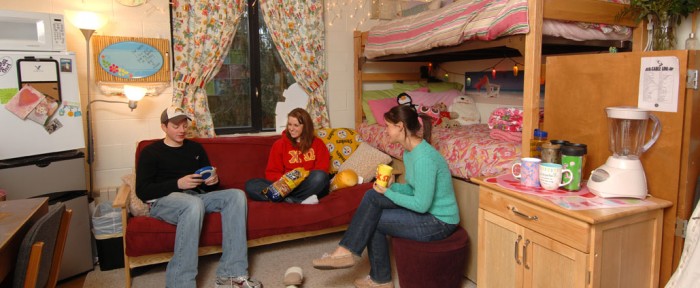 Sharing a space with another person, perhaps for the first time, can be a stressful and challenging event.  Approaching this new experience positively and with flexibility can get you on the right track to roommate success!
It is most likely that your new roommate may have different customs, beliefs or experiences than you. Sharing these differences can prove to be a challenge, but can also be educational, preparing you for realistic application in tomorrow's workforce.
Make your roommate relationship a win-win situation.
Take time to get to know one another.  Share information and ask questions, but remember to be respectful. You are going to live together; you do not have to be best friends.
Communication is key to roommate success.  Be direct about an issue, don't assume your roommate knows what is bothering you, and avoid complaining to others about the situation. Speak to each other; don't communicate by notes, texts, or emails.
Complete a Roommate Agreement during the first two weeks you room together.  Remember you both have equal rights in the room and you each must be clear about what you need.
Listen and keep an open mind.  Each student should have an opportunity to share what is on their mind.
Be upfront.  It's easier to discuss something right away rather than later on in the roommate relationship.
Be prepared to compromise.  Know what you are willing to negotiate and what you will not.
Handle the situation yourself.  Most difficulties can be resolved at this level and are good preparation for similar circumstances in the future.  If you cannot work things out between the two of you, seek assistance from your RA or AC.
If you treat your roommate as you would like to be treated, you will most likely have a positive roommate experience.  Remember that communicating, compromising, and setting clear expectations will help build a long-lasting win-win situation with your roommate.