Now that you have chosen to live on campus and completed the ApplyOnline process, you can begin to use MyHousing, which is part of BannerWeb, to view and adjust your personal preferences, living preferences make changes your dining plan, select roommate, and view your housing assignment.  Use the instructions below to learn more about each of these features in MyHousing.
Remember, to get to MyHousing, you must log in to Banner and then select Registration & Academic Services, then Residence Life, then MyHousing.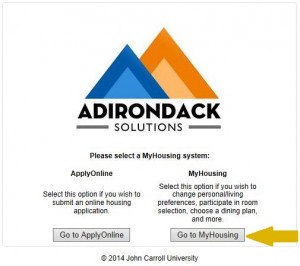 Select the Go to MyHousing on the right
After selecting the Go to MyHousing button, the MyHousing Overview page will appear and you will be shown basic information about yourself, your current dining plan.  Below is an example of a typical MyHousing Overview screen.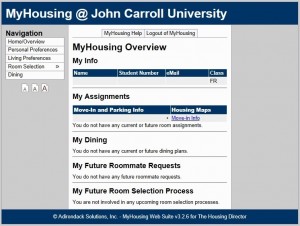 You can navigate to different parts of the system by using the Navigation panel on the left side of the screen. Some options that are marked with a >> have sub menus that will appear when you hover your mouse over them.
My Info
At the top of the Overview page you will find information about yourself.  Check to make sure all of this information is correct.  Your social class is determined by your high school graduation date.  If your think your social class information on the Overview page is incorrect please contact The Office of Residence Life at 216-397-4408 or jcureslife@jcu.edu immediately.  Your social class determines where you are placed in for housing, so it is important that you correct any issues with your social class in the system before the application closes on June 15th.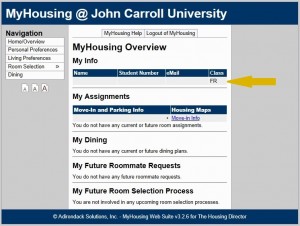 My Assignments
Once placed this is where you will view your housing assignment for the 2014-2015 academic year.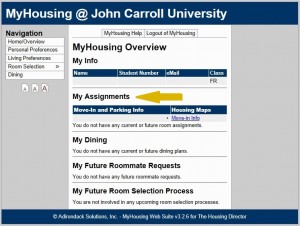 My Dining
Under My Dining, you will be able to see your selected dining plan for the 2014-2015 academic year.  If you wish to make changes to your 2014-2015 dining plan, you can do so under the navigation bar in the dining tab.
---