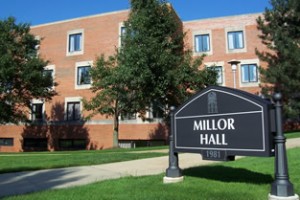 Millor Hall: Originally known as South Hall, Millor Hall was completed in 1981 and dedicated on October 24, 1981. Although it is not known why it was called "South Hall," it was renamed after Rev. William J. Millor, S.J., headmaster of residence halls for many years. Millor Hall, along with Sutowski Hall, was created in order to accommodate the influx of students wishing to live on campus in residence halls in the late 1970′s. This residence hall faces the interior of campus, on the quadrangle between Bernet and Pacelli Halls. Millor hall is the sixth student residence at John Carroll University. Today, including Millor Hall, there are eight residence halls. Dedicated to Father Millor on June 10, 1982, this residence hall enlarged the resident capacity to 1,500 students. It originally housed close to 250 students with adjoining wings designated for men or women. The hall has air conditioning during the summer sessions, and access ramps, an elevator, and lavatory facilities for people with disabilities.
Millor Hall Office Telephone: 216.397.1655
---
Millor Hall at-a-glance:
Hall type
Continuing Student Co-ed Residence Hall
Room type
Double rooms with community bathrooms
Rooms measure 14 ft. 9 in. by 12 ft. 7 in.
Window dimensions
Windows measure 24 1/2″w by 60″h
Window treatments
Draperies
Screens are provided for ground floor windows. Because Millor has encasement windows, we recommend purchasing a sheet of screen from your local home supply store to tape to the inside window frame.
Furniture provided
Loftable bed, wardrobe, dresser, desk, desk chair, bookshelf, wastebasket and recycling bin for each student.
Each room has a memo board next to the entrance.
Common areas and other building amenities
Air conditioning during warm weather months, common center lounge  with TV on each level and study rooms on each wing, pool table, laundry, vending
Access
Electronic access to building, keys to rooms