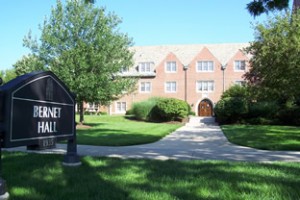 Bernet Hall, completed in 1935, is one of the newly renovated residence halls at John Carroll. Bernet Hall is dedicated in the name of John J. Bernet, president of the Nickel Plate Railroad and a major supporter of John Carroll University. Mr. Bernet vehemently called for the building of a dormitory instead of a gymnasium to house the "boys from Greater Cleveland who will be forced to go home every night, and a few that may enroll from out of town, but will be forced to find their own lodgings." Thus, came the construction of John Carroll's first residence hall. It currently houses a mix of  juniors, and seniors. Bernet rooms are equipped with a full bathroom, TV room, and spacious bedrooms. The layouts of the rooms vary depending on the number of students, (two, three, four, or six) living in each apartment. Located next to the Boler School of Business in the heart of John Carroll's campus, Bernet provides students with a community life all its own that is very different from the other residence halls.
Bernet Hall Office Telephone: 216.397.4449
---
Bernet Hall at-a-glance:
Hall type
Junior and Senior Student Co-ed Residence Hall
Room type
Two, four, and six person apartment-style rooms with double occupancy bedrooms, bathroom, and living room.
Room dimensions
Window dimensions
Windows measure 31″w by 53″h. Some rooms have two or three windows together, all rooms vary.
Window treatments
Mini-blinds
No screens provided at this time. We recommend purchasing an expandable screen from your local home supply store for windows without screens.
Furniture provided
Loftable bed, wardrobe, dresser, desk, desk chair, bookshelf, wastebasket, and recycling bin for each student.
Each living room is provided with a couch, arm chair, coffee table, and end tables.
Each suite has a memo board next to the entrance.

Common areas and other building amenities
Air conditioning during warm weather months, main kitchen for resident use, lounge with TV, laundry, vending
Access
Electronic access to the building, keys to suite and bedroom.