For quick information and instructions on selecting your dining plan, click the link below for the Application Tutorial Video. The dining plan selection process is included in the application process: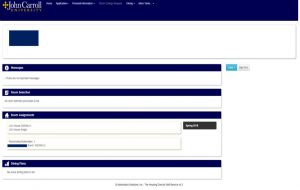 Select Your Dining Plan
Our dining plans combine a number of meals with Dining Dollars. Meals can be used at our all-you-care-to-eat Fresh Food Company in Schott Dining Hall.
The weekly dining plan ("14 Plus") includes a specific number of meals per week. Unused meals from this plan expire on Sunday evening each week and reset for the following week.
Our block dining plans ("Block 125," "Block 175," and "Block 250") include a specific number of meals for the entire semester and reset for the following semester.
Dining Dollars are part of all dining plans and are loaded onto the student's JCU ID card. These expire at the end of the spring semester. Dining Dollars may be used at any of our retail dining locations, which include the Inn-Between, Einstein Bros. Bagels, the Cubby, and the Den.
JCU Dining offers a range of dining plan options to fit with your schedule and eating habits. You will select your dining plan in Banner Web at the same time you are completing the online housing application process.
2018-2019 Board Rates
(For a description of dining plans, please click here.)
Residential Dining Plans (required for all students living in the residence halls):
14 Meals + 100 dining dollars – $2,667/semester; $5,334/year
Block 175 + 150 dining dollars – $2,667/semester; $5,334/year
Block 125 + 300 dining dollars – $2,667/semester; $5,334/year
Unlimited Meal Plan + 100 dining dollars –
$3,080/semester; $6,160/year
Block 250 + 100 dining dollars– $2,825/semester; $5,650/year
Additional Residential Dining Plan Available for Seniors Only:
Block 100 + 250 dining dollars – $1,887/semester; $3,774/year
Commuter Meal Plan:
Block 48 + 100 dining dollars – $570/semester