For a simple Introduction and Instructions in this process, please watch the video below:
Click the link for a video tutorial.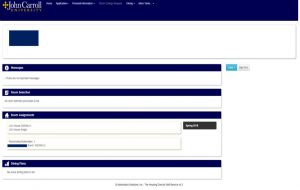 Request a Specific Roommate
**Requesting a specific roommate is optional.
You may request to live with another JCU student, as long as both parties have already accepted the terms of the Housing Agreement and Cancellation Policy. All roommate requests must be mutual in order for you to be placed together.
Once you have placed a roommate request, an email will be sent to the JCU email account of the potential roommate advising him or her that a roommate request has been initiated; he or she will need to accept or cancel the roommate request.
Roommate requests must be submitted by 11:59 p.m. Eastern on Sunday, June 10, 2018. The Office of Residence Life will do its best to honor mutual roommate requests received by the deadline.