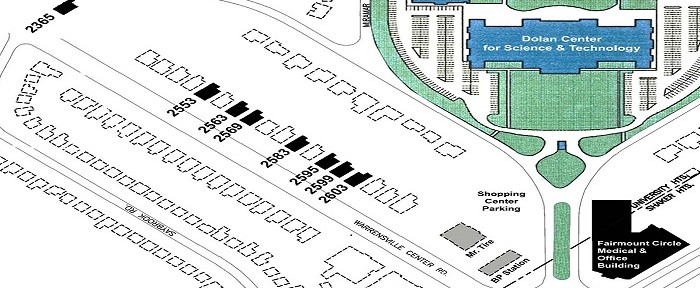 Located directly off campus on Warrensville Center Rd, the Duplexes offer students the ability to live off campus while enjoying all the amenities of living on campus. The Duplexes are two or three bedroom apartments with full kitchens, dining rooms, and living rooms. Each two-story duplex contains two units, with shared laundry facilities in the basement and a shared two-three car garage. Duplexes are fully-equipped with dining room tables and chairs, living room furniture, desks, and beds. Each unit is provided with cable and internet.  Electricity, water and sewer, heat, trash pick-up, and lawn care are included. Snow plowing and removal is the responsibility of the residents on steps/entrances and path to driveway. Driveway plowing is provided by Facilities. Air conditioning is not guaranteed in units but provided where available*. Most units have original wood flooring with varying levels of age, some have carpet, all have tile/linoleum flooring in kitchen areas.
Since each unit has a fully furnished kitchen, students living in the duplex have the option of choosing to have a campus meal plan, a commuter meal plan, or choose not to have a meal plan. Traditionally housing juniors and seniors, the duplex units provide students with the experience of living off campus while still being closely connected to the John Carroll community. 
 *Air Conditioning is listed below where currently operational at time of last inspection, this is not guaranteed.
Warrensville Duplex 2553


Floor Plan
Location
Two units (upper and lower), Two residents per unit
Shared laundry facilities in the basement
Shared two-three car garage
Fully-equipped with dining room tables and chairs, living room furniture, desks, and beds
Cable and internet
Electricity, water and sewer, heat, trash pick-up, and lawn care are included
Fully furnished kitchen
Dishwasher in both upstairs and downstairs
Wood floors and tile
 Air Conditioning operational at time of last inspection in both upstairs and downstairs, but not guaranteed
Warrensville Duplex 2563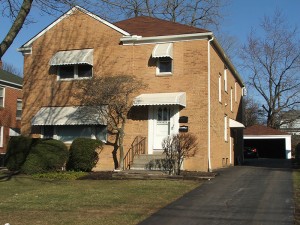 Floor Plan
Location
Two units (upper and lower), Three residents per unit
Shared laundry facilities in the basement
Shared two-three car garage
Fully-equipped with dining room tables and chairs, living room furniture, desks, and beds
Cable and internet
Electricity, water and sewer, heat, trash pick-up, and lawn care are included
Fully furnished kitchen
Wood floors and tile
No air conditioning in upstairs or downstairs
Warrensville Duplex 2569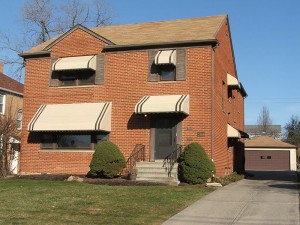 Floor Plan
Location
Two units (upper and lower), Three residents per unit
Shared laundry facilities in the basement
Shared two-three car garage
Fully-equipped with dining room tables and chairs, living room furniture, desks, and beds
Cable and internet
Electricity, water and sewer, heat, trash pick-up, and lawn care are included
Fully furnished kitchen
Wood floors and tile
Air Conditioning operational at time of last inspection in both upstairs and downstairs, but not guaranteed
Warrensville Duplex 2583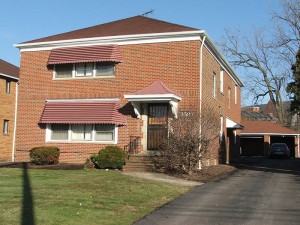 Floor Plan
Location 
Two units (upper and lower), Two residents per unit
Shared laundry facilities in the basement
Shared two-three car garage
Fully-equipped with dining room tables and chairs, living room furniture, desks, and beds
Cable and internet
Electricity, water and sewer, heat, trash pick-up, and lawn care are included
Fully furnished kitchen
Wood floors and tile
Air Conditioning operational at time of last inspection in both upstairs and downstairs, but not guaranteed
Warrensville Duplex 2595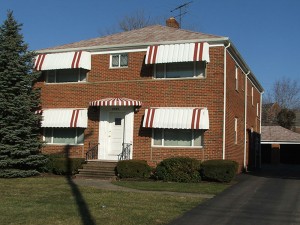 Floor Plan
Location
Two units (upper and lower), Two residents per unit
Shared laundry facilities in the basement
Shared two-three car garage
Fully-equipped with dining room tables and chairs, living room furniture, desks, and beds
Cable and internet
Electricity, water and sewer, heat, trash pick-up, and lawn care are included
Fully furnished kitchen
Dishwasher in both upstairs and downstairs
Wood floors and tile
Warrensville Duplex 2599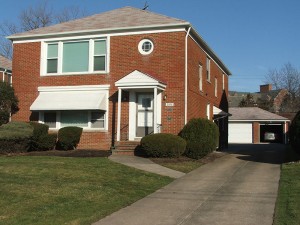 Two units (upper and lower), Two residents per unit
Shared laundry facilities in the basement
Shared two-three car garage
Fully-equipped with dining room tables and chairs, living room furniture, desks, and beds
Cable and internet
Electricity, water and sewer, heat, trash pick-up, and lawn care are included
Fully furnished kitchen
Dishwasher currently in lower unit
Carpeted units with tile
No air conditioning in upstairs or downstairs
Warrensville Duplex 2603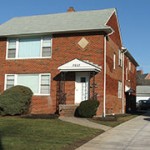 Floor Plan
Location 
Two units (upper and lower), Two residents per unit
Shared laundry facilities in the basement
Shared two-three car garage
Fully-equipped with dining room tables and chairs, living room furniture, desks, and beds
Cable and internet
Electricity, water and sewer, heat, trash pick-up, and lawn care are included
Fully furnished kitchen
Wood floors and tile
Air Conditioning operational at time of last inspection in both upstairs and downstairs, but not guaranteed