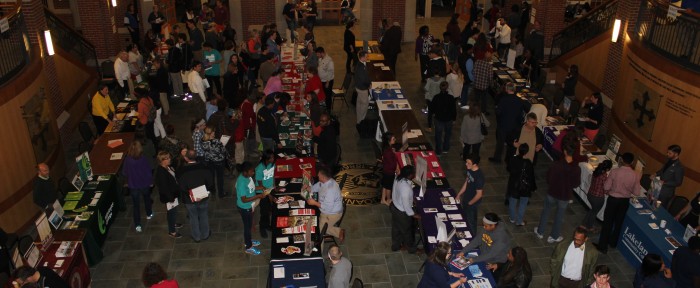 College fairs are public recruitment events that take place in the fall and spring across the country. Typically held on a high school or college campus, representatives stand behind tables, display recruitment materials, and answer questions for prospective students and parents as they browse. In most cases, high school juniors or sophomores attend these programs.
College fair invitations are received from all over the country. With a limited number of professional staff members in the Office of Admission, it is not possible to cover all of them. Your assistance helps ensure JCU is represented at as many of these events as possible each year. In recent years, ambassadors have attended between 10 – 30 events, at which JCU would not have been represented otherwise.
Covering these programs with trained local volunteers has many advantages. Local volunteers might see families they know and make the personal connections that are so important in recruitment. An active volunteer organization allows the admission office to extend its reach to more geographic areas.
While many college fairs will be covered by the admission staff, a list of program invitations where volunteer coverage is available here. This list is searchable by state and will updated periodically as new invitations are received so please check back often.