For those who enjoy the thrill of friendly competition, the Recreation Department offers intramural activities. Intramural programs allow students to participate against other JCU students, faculty, staff, and administrators in an organized setting.
For more information regarding Intramural Sports, please check out the links below, or email imsports@jcu.edu.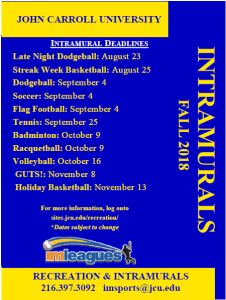 Intramural Handbook/Policies is available at all Captains Meetings.
Captains Meetings are MANDATORY, for your team to play in any league sport.