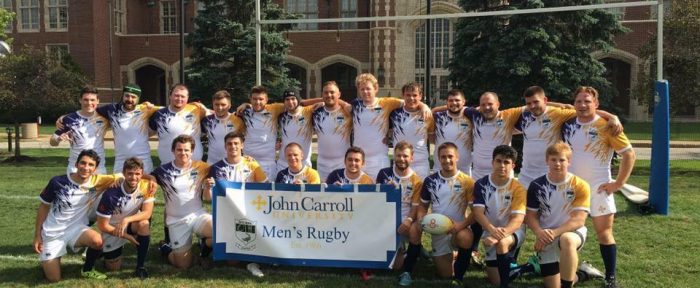 Established in 1966, the John Carroll University "Green Gators" Rugby Football Club is the oldest club sport at the University.
During the fall the team competes in the Great Lakes Rugby Football Union. During the spring, we play against teams in Ohio as well as the Ohio Rugby Classic held at Ohio State in Columbus, Ohio. Beginning in the spring of 2012, we hope to expand the breadth of teams so we compete against by playing  teams from other Jesuit universities.
We are always recruiting new players. It is never too late to start practicing with us. Don't worry if you don't have any rugby experience, we will train you. Please contact the club president, Jack Weyer at jweyer20@jcu.edu for more information about the club, practices, and matches.
JCU Rugby apparel is available for purchase through this link: http://www.internationaltryzone.com/index.php?route=product/team&tag=Jcurugby
Photos from the current season: