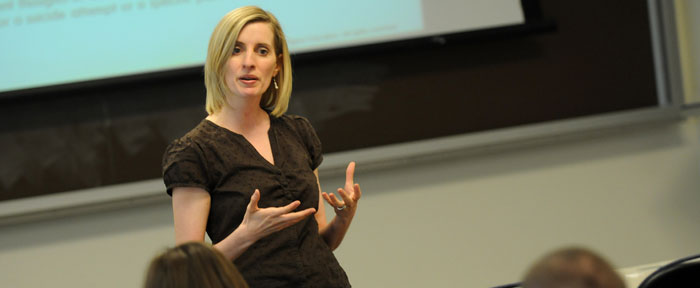 Full-time Faculty
Emeritus Faculty
Staff
Ruta Marino
Administrative Assistant
rmarino@jcu.edu
216.397.4355
Dolan E 301
Part-time Faculty
Dr. Cheryl Chase
Office: E 307
cchase@jcu.edu
Dr. Therese Keary
Office: E 305
tkeary@jcu.edu
Dr. Janet Larsen
Office: E 311
216.397.4363
larsen@jcu.edu
Dr. Matthew Lindberg
Office: E 307
mlindberg@jcu.edu
Spring 2014 Office Hours: T R  9:00 – 11:00 a.m., 3:30 – 4:30 p.m.
Dr. Ann McCarthy
Office: E 306
216.397.4733
amccarthy@jcu.edu
Dr. Christopher McNally
Office: E 305
cmcnally@jcu.edu
Dr. Paul Minnillo
Office: E 305
pminnillo@jcu.edu
Dr. Marne South
Office: E 307
msouth@jcu.edu
Spring 2014 Office Hours: M W F  12:00 – 1:00 p.m
Dr. Melanie Tabak
Office: E 305
mtabak@jcu.edu
In Memoriam
Dr. Nicholas S. DiCaprio '54
Professor 1958-1997, Department Chair 1986-1994
As professor and chair of the Psychology Department, Dr. DiCaprio was known for his caring demeanor and his dedication to the progress of the students, the university, and the department of psychology. Blinded since the age of 9, Dr. DiCaprio did not allow his impairment to affect the goals that he set for himself. As an undergraduate at John Carroll, DiCaprio was selected by his peers to receive the Beaudry Award for his loyalty, academic excellence, and his service to the university and the community. After graduating, DiCaprio went on to obtain his masters and Ph.D. in psychology from Case Western Reserve University before returning to John Carroll to begin his professional career. In addition to being a professor and chair, DiCaprio wrote several books, co-founded the Foresight Group to assist other individuals with visual impairments, and created a counseling service entitled 'satiation therapy.' Unfortunately, shortly after his retirement, Dr. DiCaprio passed away at the age of 67. His legacy will forever live at John Carroll University with an award for the distinguished psychology graduate established in his memory.