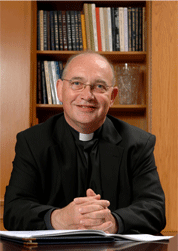 A great homilist. Humble. Visionary. Businessman. These are but a few of the adjectives used to describe Robert L. Niehoff, S.J., who is the 24th president and longest-serving president of John Carroll University.
Committed to serving John Carroll students and driven to always do more, Father Niehoff was inaugurated Oct. 11, 2005. Since then, he has immersed himself in getting to know his constituents, near and far, which included 22 alumni receptions in 19 cities during his first six months as president.
With the Board of Directors of John Carroll University, Father Niehoff has focused on financially strengthening the University. In addition, they worked together to craft and approve a Vision, Mission, and set of Core Values to serve as a road map for the University, as well as six strategic initiatives, which are central to the University's recognition as a center of learning and service.
Other highlights of Father Niehoff's tenure include:
Consistently high U.S. News & World Report rankings, including the latest results in which John Carroll was rated – for the 28th consecutive year – among the top 10 master's universities in the Midwest.
The John Carroll Access Initiative (formerly known as the Ohio Access Initiative), which provides financial support to help academically eligible incoming freshmen from lower-income backgrounds graduate in four years.
The University's 125th anniversary celebration in 2011, which included a number of events to celebrate the milesone with key stakeholders. The capstone event was a sold-out, black-tie gala that raised $533,750 in student scholarships and included an announcement from alumnus Frank '53 and Helen Schilling, who increased their Schilling Endowed Scholars Program pledge to $16 million for undergraduate students.
Department of Communication and Theatre Arts renamed to honor the legacy of alumnus Tim Russert '72, and The NBC/John Carroll University "Meet the Press" Fellowship was created in honor of the Sunday morning program's legendary host. The fellowship is awarded to a John Carroll University graduating senior interested in pursuing a career in political journalism, and is a nine-month position at NBC's "Meet the Press."
Inaugural Jack and Mary Jane Breen Chair in Catholic Systematic Theology appointed.
The Bohannon Science Center deconstructed and Hamlin Quad restored as student recreation space.
Sustainability Committee and Diversity Committee established.
---
More About Fr. Niehoff