Medical student
University of Toledo College of Medicine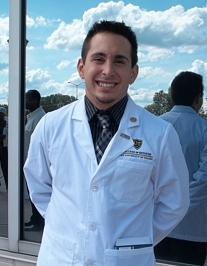 I could not have enjoyed my time at John Carroll more. Not only did I develop friendships that would last me a lifetime, but I also established a foundation in my education that has proven to be immensely helpful as I began my journey into healthcare. As a biochemistry and biology major coming out of John Carroll, I was set to pursue a Master's degree in Biomedical Sciences – Medical Sciences at the University of Toledo College of Medicine.
As I went through the master's program, I found the advising in coursework that I had received at John Carroll allowed me to flourish and prove that I could perform under high-stress situations in academia. Because of this I was accepted into Toledo's College of Medicine Class of 2015. As I have gone through the first year of medical school, I remember some of the beliefs about study habits our biochemistry teacher Dr. Chai imparted to our class and the philosophy that JCU President Fr. Robert Niehoff spoke of frequently at John Carroll.
A good majority of my success can be attributed to the values, study habits, and morals I gained through my education at John Carroll. For these reasons I continue to succeed in academia in medical school, continue to contribute to improving John Carroll by working with faculty and creating the Young Alumni Health Professionals Team to help advise pre-health professions students, and I continue to serve others through the Big Brothers Big Sisters of Northwestern Ohio and Medical Mission trips to Honduras to help those without medical care.
My time at John Carroll was an invaluable period in my life that set me on the right path to becoming a physician that will represent not only the University of Toledo College of Medicine but also John Carroll with the greatest discipline, unselfishness, and respect while improving the quality of life of those around me.