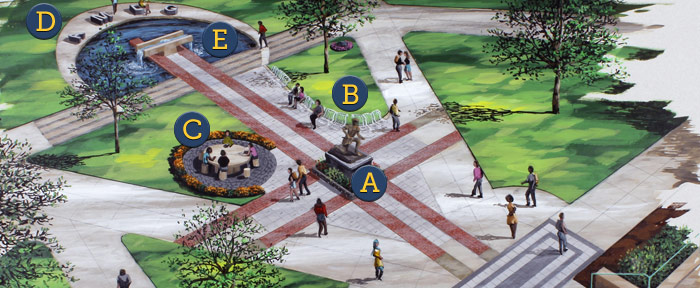 According to Berj Shakarian, the designer and project architect, the goal is to provide a setting for memory, meaning, reflection, and community. It will respect and enhance the existing Saint Ignatius monument, a gift from the Class of 1962 on the occasion of their 35th reunion, with a Latin Cross configuration and create a University landmark.
A: The staggered cross design symbolizes the suffering of Christ for humanity.
B: The plan includes a social area with a grouping of four benches illustrating the four vows of Saint Ignatius: poverty, chastity, obedience to Christ, and obedience to the Pope.
C: The round table and stools provide for reflection and reading.
D: The three-dimensional letters at the foundation promenade depict the Jesuits' motto: Ad majorem Dei gloriam, (AMDG) "For the greater glory of God."
E: To create an image of paradise with the introduction of water. The fountain, a sculptural trough, allows for water flowing in thin sheets – representing the wellspring of life.