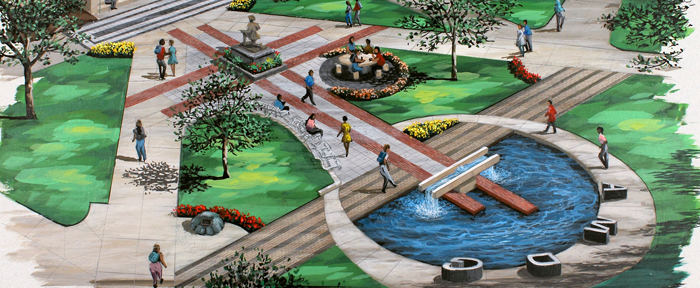 Last chance to order
Order your brick or paver by April 14, 2014. This will be your final opportunity to order!
---
Installation begins Summer 2014
Because the Murphy Hall project includes heavy construction equipment the new Saint Ignatius of Loyola Plaza project will be installed in the Summer of 2014.
---
As a member of the John Carroll community, you are invited to add your name to the new Saint Ignatius of Loyola Plaza.
Building on John Carroll University's 125 years of Jesuit educational excellence, the Saint Ignatius Plaza will be renovated to create a series of adjoining outdoor spaces to accommodate both the sacred and secular experience.
The existing plaza-area is long overdue for maintenance and repairs, which created an opportunity to dramatically improve the area immediately outside of Saint Francis Chapel and by the Saint Ignatius statue and to engage the University community. The distinctive bricks will be laser engraved and installed for public viewing. The project must fully fund itself, and any net revenue will benefit Campus Ministry.