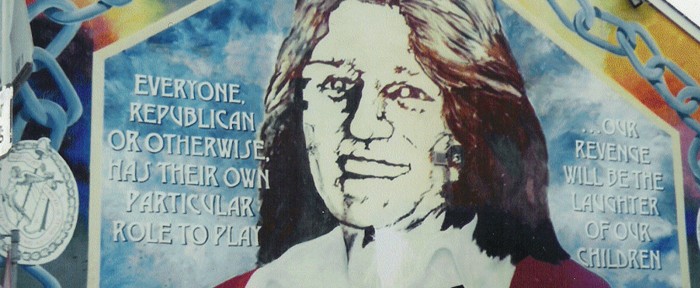 Founded in 2004, the JCU Peacebuilding program in Ireland explores Northern Ireland's stunning transformation from a society enduring a bloody thirty-year civil conflict to one where peace is being forged each day. After taking a course (or linked courses) in the spring, students and faculty engage in a two-week academic immersion in Northern Ireland and Ireland, encountering the culture, geography, history, and lives of the unforgettable people (political leaders, former paramilitaries, victims, police, and others) who survived the Troubles and now work for peace and justice.
During the semester, we examine the historical and cultural roots of conflict from a multidisciplinary approach by exploring histories, literary narratives, philosophy, and film. While we establish a firm background for why the conflict persisted, we focus on how we can gain the skills to do the courageous but difficult work of peace-building, conflict transformation, reconciliation, and social restoration. We take as our inspiration the Ignatian call for a well-educated solidarity, in which we pose the question, "How can we live together in this time and place?"
Above is a short film by Dan Loya (JCU '16). Pictured, in order: the Police Service of Northern Ireland, Gareth of PeacePlayers International, Downtown Belfast, London/Derry, Raymond Lennon, Trinity College Dublin, Belfast City hall, Father Alec Reid, Miltown Cemetery, PSNI uniform, Baroness May Blood, Belfast peace wall, Dublin Post Office, Apprentice Boys Museum (London/Derry), Ruari oHeara, the Mayor of Belfast, Museum of Free Derry, Peace Bridge, Mark Thompson of Relatives for Justice, JCU participants (Maria Loya, Dan Loya, Stephen Lutter, Alexi Peters, Dylan O'Donnell, Philip Metres, Richard Clark, John Spencer), Falls Road (Belfast), Peace Wall (West Belfast), Hotel Europa, Skainos, Stormont Assembly, Bill Shaw at 174 Trust, victims of paramilitary attacks, and so much more.
More about the program from this 2017 article in John Carroll Magazine!
Check out this 2015 webpage designed by Karly Kovac and Emily Tusick: Humans of Northern Ireland!