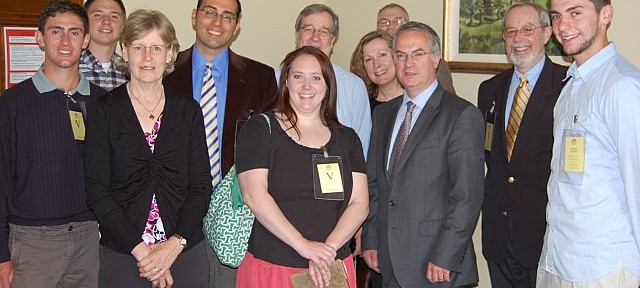 Summer Institutes are part of John Carroll University's initiative in Human Rights, Peace Building and Conflict Transformation. The Institutes, which are interdisciplinary and experiential, are designed to foster the sensitivity, knowledge, and skills that will enable students to participate in peace-building, human rights, and conflict transformation efforts at home and around the world. The great majority of contact hours for the Institutes take place in settings off-campus (site specific), with an academic and practical orientation on the JCU campus prior to departure.
To achieve an appreciation of interdisciplinary analysis of subjects, refinement of critical thinking and problem solving skills, and application of qualitative research methodology we use experiential learning techniques in the field.  First, we frequently call upon local politicians, religious figures, NGO representatives, and other officials, and experts to speak to the group. During these sessions students are required to listen carefully and ask well-informed questions of the speakers. Second, students are placed in situations where they observe community activities related to human rights, peace-building and conflict transformation. Students are taught how to synthesize the dynamics of peace building and conflict transformation from the institutional-level of official actors and the local-level of the community.
Learning changes how a person thinks, not just what he or she thinks about.  The academic staff of the Institute work with students to develop critical thinking skills, intercultural competence, and the ability to process, assimilate and synthesize information from diverse cultural contexts.  To this end, specific learning goals for the Institutes are as follow:
Think through some of the connections among religion, culture, and politics in site specific context and extrapolate to other contexts.
Gain an advanced understanding of site-specific history and politics in relation to human rights and peace building.
Develop an understanding of site-specific community dynamics and capacity building.
Develop an understanding of approaches to human rights and conflict transformation in community context.
Generalize themes from local field studies.