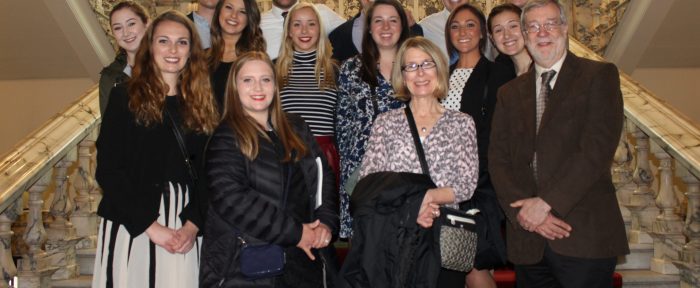 The PJHR major will consist of 36 credit hours and will include:
1) Required Courses (5)
Required Peace, Justice, Human Rights Courses (PJHR)
PJHR 230 – Building Peace after Empire (3 credit hours). Multidisciplinary study of the dynamics of conflict and peacemaking in South Africa, Northern Ireland, and other sites. Focus on the historical and cultural roots and persistence of conflict; the contestedness of history; peacebuilding, conflict transformation, reconciliation, and social restoration; and artists' and writers' role in creating just peace. Materials include histories, narratives, poems, and films.
HS 230 – Introduction to Human Rights (3 credit hours). Survey of thinking on human rights from antiquity to the present, with special attention to the Universal Declaration of Human Rights and other post-1945 developments. Case studies may vary, but will generally include such key human rights concerns as slavery, humanitarian intervention, refugees and displaced persons, post-conflict reconstruction, human trafficking, torture, and the death penalty.
SC 111 – Introduction to Social Justice (3 credit hours). Overview of the theories of social justice, including discussion and analyses of social inequalities both domestic and global, and issues related to civic engagement, social responsibility, and change. Service learning component required.
PJHR 375 – Internship Course (3 credit hours). Prerequisite: permission of PJHR instructor. Participation in internship or experiential service-learning opportunity in a setting that focuses on peace building, social justice and/or human rights. The student will be required to analyze the experience from a personal and theoretical perspective. May be fulfilled by successful participation in an appropriate service-learning course. The PJHR director will approve alternatives on a case-by-case basis.
PJHR 401 – Capstone Course in Peace, Justice, and Human Rights (3 credit hours). Topic to be developed by the director and advisory committee and listed in the semester schedule. Requires a research paper demonstrating knowledge of the field and relevant methodologies. Offered as lecture or independent study.
2) Additional Courses
One additional course (3 credits) at the 400 level, drawn from the list of PJHR-approved courses
Six courses (18 credits), at least five of which must be taken at the 300-400 level, from the list of PJHR-approved courses. Normally, these courses will be from three different disciplines or departments.
3) Additional Requirement
In consultation with and approval by a PJHR advisor, the student will create a coherent set of at least six courses, which will be the focus of his or her studies. These courses will fit into one of the following categories (A, B, or C) and into a subset within that category:
A. Regional Studies (e.g., Latin American, Africana, East Asian, Modern European, or Near East Studies)
B. Global Issues (e.g., Environmentalism, Poverty, Sectarian Conflict, Social Justice and Postcolonialism, Globalization, Diasporic Studies, or Post-Conflict Reconstruction)
C. Themes (e.g., Peace, Justice, or Human Rights). Please click here for a list of courses by theme.