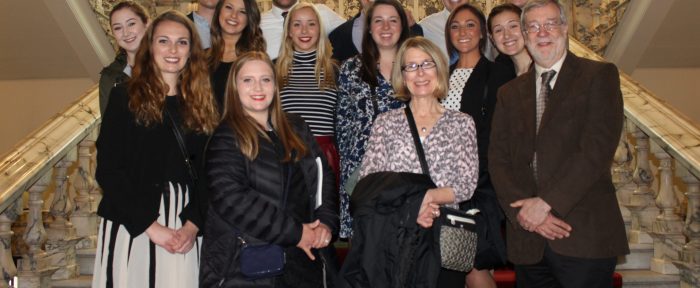 The PJHR major will consist of 36 credit hours:
1) Required Courses (5)
Required Peace, Justice, Human Rights Courses (PJHR)
PJHR 230 – Building Peace after Empire (3 credit hours). Multidisciplinary study of the dynamics of conflict and peacemaking in South Africa, Northern Ireland, and other sites. Focus on the historical and cultural roots and persistence of conflict; the contestedness of history; peacebuilding, conflict transformation, reconciliation, and social restoration; and artists' and writers' role in creating just peace. Materials include histories, narratives, poems, and films. (The EHE-linked courses on Ireland, or the Israeli/Palestinian Literature course, can be substituted by permission of the Director.)
HS 230 – Introduction to Human Rights (3 credit hours). Survey of thinking on human rights from antiquity to the present, with special attention to the Universal Declaration of Human Rights and other post-1945 developments. Case studies may vary, but will generally include such key human rights concerns as slavery, humanitarian intervention, refugees, displaced persons, post-conflict reconstruction, human trafficking, torture, and the death penalty.
SC 111 – Introduction to Social Justice (3 credit hours). Overview of the theories of social justice, including discussion and analyses of social inequalities both domestic and global, and issues related to civic engagement, social responsibility, and change. Service learning component required. (Any course with an Issues in Social Justice (ISJ) core designation can be substituted by permission of director.)
PJHR 400 CRITICAL INQUIRY (3 credit hours). This course explores research techniques commonly used to study issues related to peace, justice, and human rights, and the politics of knowledge production. Topics include historical research, literature reviews, critical analysis, interviewing, using survey data, ethics and reducing power differences in research. Students will have the opportunity to choose a field they would be interested in working in, and propose research on a related topic. This course helps students develop the skill set to successfully complete an independent study on the topic of their choosing.
PJHR 410. INTERNSHIP AND SEMINAR (3 credit hours). By permission of Program Director. Capstone experience involving an internship or advanced research project in a setting which aligns with the student's interests, skills, or career goals. This may include internships in non-profit, social justice, legal, heath, human service, or research settings. A weekly seminar will also be held with ongoing reports, reflections, and analysis about their field experiences.
2) Additional Courses
One additional course (3 credits) at the 400 level, drawn from the list of PJHR-approved courses
Six courses (18 credits), at least five of which must be taken at the 300-400 level, from the list of PJHR-approved courses. Normally, these courses will be from three different disciplines or departments.