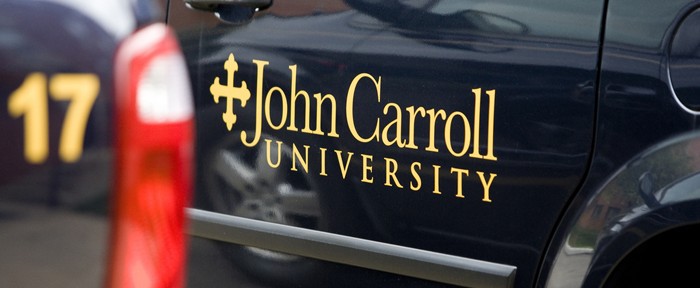 The Parking Office coordinates all campus parking functions, including:
Providing information, assistance, and direction to anyone parking on campus.
Issuing parking permits to students, faculty, staff, and visitors.
Enforcing parking rules and regulations, and coordinating parking services for campus events.
A student may register only one vehicle. The student must be the owner (family or individually owned) or the primary operator of that vehicle (family vehicle) and may not register the vehicle of another student.   Parking permits are not transferable between persons.
To call for the JCU Shuttle Service which runs Sunday evening through Friday evening, please call 216-397-2287.  
Please click on the link below to see the new parking arrangements.
NEW STUDENT PARKING MAP EFFECTIVE JUNE 1, 2016
During the First Week of Classes there is NO OPEN PARKING.  Open Parking begins each Friday at 5 PM and expires at 7 AM each Monday.
SPRING 2017 PARKING PERMIT UPDATE
Effective Monday, March 13, 2017, the sale of the SPRING 2017 parking permit will be reduced.  The JCU Commuter, JCU Resident, Freshman Commuter and Green Road Annex  semester permits will be priced at $75 for the Spring Semester. The Evening permit is priced at $30 for the Spring Semester.
Do NOT discard your hang tag.  The cost to replace the hang tag is $50 plus the cost of the Spring 2016 permit.  A new validation sticket will be provided to those that currently have a hang tag.  Any student applying for their first Parking Permit will obtain a hang tag along with a validation sticker.  PERMITS WILL NOT BE MAILED
Go to: http://sites.jcu.edu/parking/ for more information and to purchase your permit.