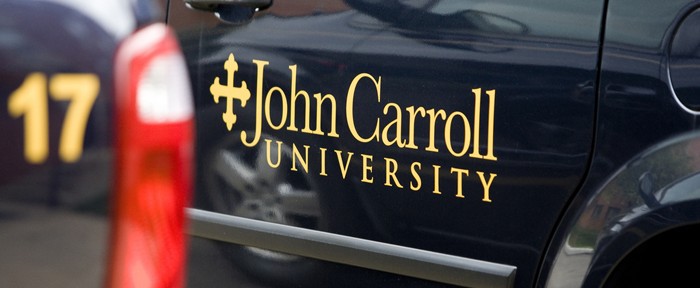 The Police Department at John Carroll University is primarily responsible for ensuring the safety of all persons living, working or visiting the University. This requires considerable attention to regulating the flow of traffic and the appropriate use of parking.
The Parking Office coordinates all campus parking functions, including:
Providing information, assistance, and direction to anyone parking on campus.
Issuing parking permits to students, faculty, staff, and visitors.
Ccoordinating parking services for campus events.
A student may register only one vehicle. The student must be the owner the primary operator of a family owned vehicle and may not register the vehicle of another student.   Parking permits are not transferable between persons.
We have developed rules and regulations to help govern traffic and parking on University property. Adherence to these rules will facilitate the safe and efficient use of parking areas and roadways around campus. Please read the following regulations carefully. If you have questions please call the JCU Parking Office at 216.397.2277 or 216.397.1234 after hours.
To call for the JCU Shuttle Service which runs Sunday evening through Friday evening, please call 216-397-2287.  
The JCU Parking Rules and Regulations are still enforced at all times.
During the academic year, the campus is accessed through the entrance on Carroll Blvd between 7 a.m. and 10 p.m. Monday through Thursday, and 7 to 5 p.m. Friday through Sunday. The Belvoir Boulevard entrance is open overnight between 5 p.m. and 9 a.m. Monday through Thursday and opens at 5 p.m. Friday until 9 a.m. Monday for weekends.
Please click on the link below to see the parking arrangements.
During the First Week of Classes and Exam Week all vehicles must have a valid Parking Permit.  Parking Enforcement will be in effect at all times during the Academic School Year.
Parking on the weekend is limited to the general parking areas (not Reserved Spaces, Belvoir Lot, Pacelli Lot, Boler School of Business or Rodman Lot, or Faculty/Staff spaces). Open Parking is in effect on weekends, during the holiday breaks, and during the summer.
FALL 2019 PARKING PERMIT UPDATE
The sale of Fall 2019 Parking Permits go on sale Monday, July 22nd.
Freshman Resident students are able to apply from Monday, July 22nd until Monday, August 5th.
Do NOT discard your hang tag.  The cost to replace the hang tag is $50 plus the cost of the Fall 2019 permit.  A new validation sticker will be provided to those that currently have a hang tag.  Any student applying for their first Parking Permit will obtain a hang tag along with a validation sticker.  PERMITS WILL NOT BE MAILED
Go to: http://sites.jcu.edu/parking/ for more information and to purchase your permit.
Remember, the purchase of a parking permit does not guarantee a parking space.
A student may register only one vehicle. He/She must be the owner or the primary operator of that vehicle and may not register the vehicle of another student.
All vehicles must be parked within the yellow painted lines marking parking spaces.  Motorcycles, motorbikes, and motor scooters are subject to the same regulations as automobiles.