Monday, March 18, 2013 • 7 p.m.
Lecture: "Islam without Extremes"
Mustafa Akyol – Political commentator, author, and columnist for the Hurriyet Daily
News, Turkey's foremost English-language daily based in Istanbul.
Co-sponsored by the Tuohy Chair of Interreligious Studies and the Niagara Foundation, Cleveland Chapter
Wednesday, March 20, 2013 • 6:30 p.m.
Film: "Inside Mecca"
The film follows Muslims from all over the world on their journey to make the Hajj.
Thursday, March 21, 2013 • 7 p.m.
Lecture: "A Mercy to All the Worlds: How Muslims Have Viewed the Prophet Muhammad over the Centuries"
Jonathan Brown, Ph.D. – Associate Professor of Islam and Muslim Christian
Understanding in Georgetown University's School of Foreign Service
Friday, March 22, 2013 • 6:30 p.m.
Film: "Inside Islam: What a Billion Muslims Really Think"
The film features data gathered by the Gallup Polls about what
the Muslim majority really believes about society and religion.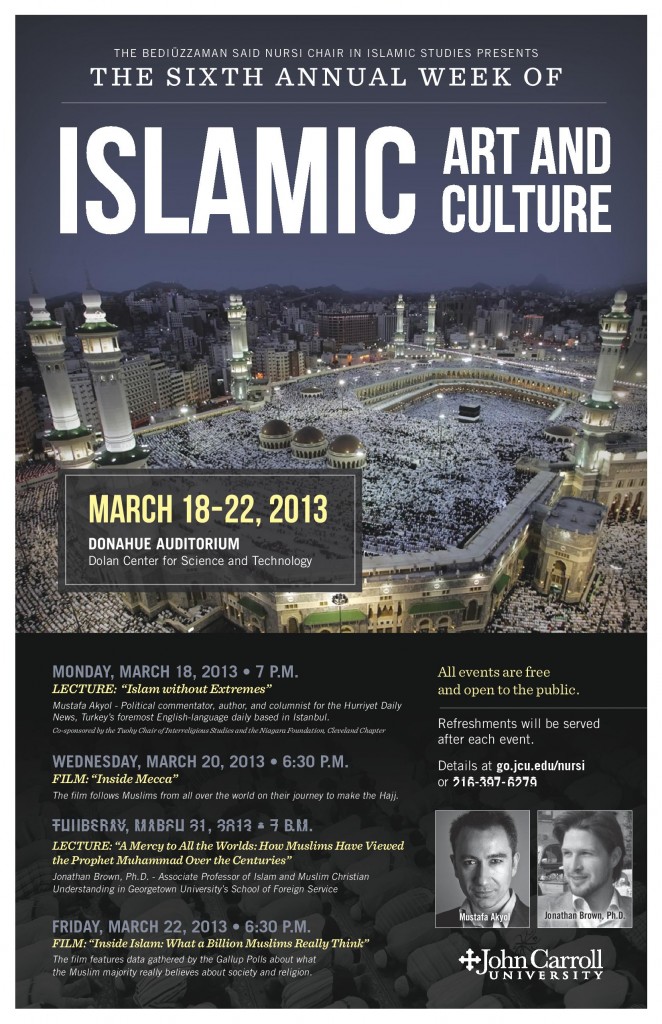 Click below to download a PDF version.
Sixth Annual Week of Islamic Art and Culture
Posted on January 28, 2013