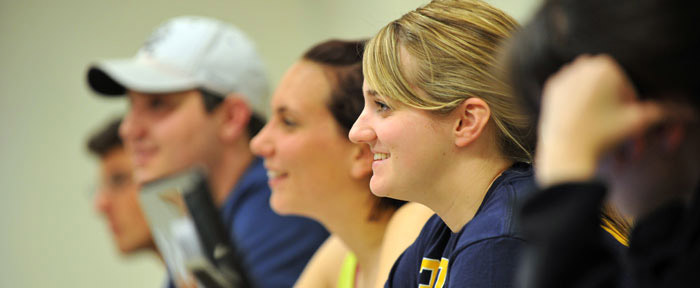 Student engagement is defined both as what students do-time and energy devoted to educationally purposeful activities, and what institutions do-using effective educational practices to induce students to do the right things. Educationally effective institutions channel student energy toward the right activities.
The NSSE is not a measure of learning, but rather of students' self-reported behaviors and perceptions of their college experience. The NSSE is only one of several instruments that JCU uses to gauge the student experience.
John Carroll University participates in the NSSE on a three-year cycle in order to capture longitudinal data with student cohorts. To date, JCU has participated in the 2005 and 2008 administrations of the NSSE with response rates above the national average.
JCU NSSE respondents, by year
| | | | |
| --- | --- | --- | --- |
| | 2005 | 2008 | 2011 |
| Format | Web | Web | Web |
| Response rate | 43% | 35% | 32% |
| Gender | 66% female | 62% female | 65% female |
| Students of color | 8% | 11% | 10% |
| Student-athletes | 15% | 18% | 17% |