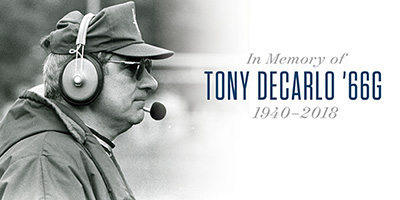 The John Carroll University community mourns the passing of Tony DeCarlo '66G, who died peacefully on April 18, 2018, at home in Cleveland, surrounded by his family.
"Tony DeCarlo was devoted to the growth of John Carroll student-athletes as a coach, mentor, and advocate," said Jeanne Colleran, Ph.D., interim president of John Carroll University. "On the field, he pushed our athletes to the highest levels of competition, and as athletic director and later as fundraiser, he positioned future generations of Blue Streaks to thrive on and off the field. My thoughts are with his wife Rita and his family. John Carroll is grateful for his lifelong service to our community."
DeCarlo is survived by his wife of 57 years, Rita '68G, their three children – Debi Rachek '86, Tony '88, and Patti Naim '90; their spouses, including Gary Naim '90; nine grandchildren, including Derek Naim '18; and two great-grandchildren. DeCarlo was a successful coach, mentor, and leader at John Carroll for nearly 50 years. His John Carroll journey began in 1964, and continued beyond his retirement in 2014.
"Tony set a standard for competitive excellence at John Carroll, which our current coaches and staff continue to strive to live up to," said Laurie Massa, John Carroll's Senior Director of Athletics. "His impact on the lives of hundreds of student-athletes as a coach and mentor is immeasurable. I will always appreciate Tony's vision and love for John Carroll – his legacy will last forever."
In lieu of flowers, the DeCarlo family respectfully requests that you honor his legacy of service with a contribution to the Blue-Gold Club, which continues Tony's lifelong mission of promoting and supporting John Carroll student-athletes.
---
Memorial Information
The DeCarlo family and the John Carroll University community invite you to a weekend of remembrance and celebration of the life of Tony DeCarlo '66G. Events will be taking place on Friday, Apr. 27, and Saturday, April 28, 2018 at the Church of the Gesu in University Heights and John Carroll University. All are welcome to attend.
Friday, Apr. 27, 2018 – Calling hours – 2:00-4:00 PM and 6:00-9:00 PM – Tony DeCarlo Varsity Center
Saturday, Apr. 28, 2018 – Funeral Mass – 10:30 AM – Church of the Gesu (A memorial luncheon and program will follow in the Tony DeCarlo Varsity Center at noon.)
For questions, please contact the Office of Alumni Relations at 216.397.4336 or alumni@jcu.edu.
---
Tony DeCarlo was born on July 12, 1940 in Painesville, Ohio. The second of three children born to Sicilian immigrants, DeCarlo was the first in his family to go to college, graduating from Kent State University following his time at Painesville High School.
He came to University Heights in 1964 from Lakewood St. Edward High School, where he was on the coaching staff for both football and wrestling. In addition to his role as head coach of the Blue Streaks wrestling program, DeCarlo would also serve on the football staff as defensive coordinator, a position he held until 1975, and tennis coach.
DeCarlo quickly went from having to pull students out of the hallway to compete, to leading JCU to 21 consecutive President's Athletic Conference (PAC) championships. Winning became contagious, and soon DeCarlo had the recruits necessary to climb to the top of the Division III world.
The 1975 wrestling team earned the first national championship in school history, bolstered by four individual national champions. He was named National Catholic Coach of the Year from 1973-75, and was the NCAA College Division Coach of the Year in 1974. As wrestling coach, DeCarlo mentored 14 national champions, 62 All-Americans, and 120 PAC champions, going 213-65-1 in dual meets.
For his efforts in growing the JCU wrestling program into a Division III power, he was inducted into the John Carroll Athletic Hall of Fame in 1977. All told, three of DeCarlo's wrestling teams (1974, 1975, 1976) and his 1997 football team have been enshrined in the Hall of Fame. DeCarlo was inducted into the Ohio Wrestling Hall of Fame in 1980 and the NCAA Division III Wrestling Hall of Fame in 1991. He was awarded a JCU Centennial Medal in 1986.
In the same year, he succeeded Gerald Schweickert '60, as athletic director, becoming just the ninth person to ever hold the position. One year later, he stepped off the mat and onto the football field once more, beginning a tenure as the program's 14th head coach that would propel the Blue Streaks to national prominence.
DeCarlo's teams recorded 12 straight winning seasons, amassing a record of 90-27-4. His 1989 and 1994 teams won the Ohio Athletic Conference championship, with the latter season earning him OAC Coach of the Year honors. He received the award a second time in 1997, when the Blue Streaks won the first NCAA Division III playoff game in team history.
As athletic director, he began to connect with alumni and benefactors with grand plans for the future of athletics. He added women's soccer and golf during his tenure, continuing a tradition of growth that began with just seven varsity teams in his first year at Carroll. In 2003, when he retired as the longest-serving athletic director in modern JCU history, the University honored his legacy by renaming the varsity athletic gym as Tony DeCarlo Varsity Center.
DeCarlo remained an active member of the John Carroll community after his retirement, fulfilling the vision that began in his time as athletic director. He served as Director of Athletic Development until 2016, promoting student-athlete growth on and off the field. During that period, he raised more than $15 million for athletic facility improvements and $4 million for scholarships for JCU students. Key projects included Jack Wasmer '45 Field at Don Shula '51 Stadium; DeCarlo Varsity Center; Julie Zajac '02 Track; David Meuse '67 Wrestling Room; Ron & Cindy Zwierlein Swim Team Endowment; Mark Schell '82 Endowed Scholarship; John W. Ray Endowed Scholarship; and the NCAA football trip to Ireland. DeCarlo's children Debi, Tony Jr., and Patti, surprised Tony and Rita by purchasing a poetry table for the New Saint Ignatius of Loyola Plaza on JCU's campus in their honor.
His legacy is one of sustained growth, leadership, and lifelong service to John Carroll student-athletes, coaches, staff, and alumni.
---
Articles
---