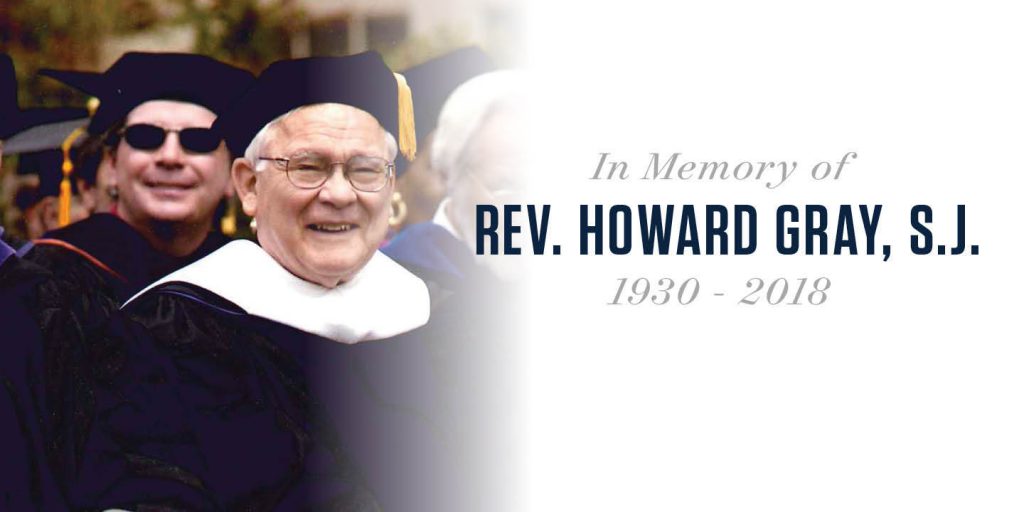 Please share your memories with us below or on social media and tag them #FrGray.
The John Carroll University community mourns the passing of Rev. Howard Gray, S.J., who passed away on May 7, 2018, at St. Joseph Mercy Oakland in Pontiac, Michigan, of complications from a car accident. He was 87 years old. 

Beloved in the John Carroll community, Fr. Gray was a Cleveland, Ohio native. He was born on May 23, 1930, graduated from St. Ignatius High School in 1948, and entered the Society of Jesus at Milford, Ohio, on July 24, 1948. He was ordained at Colombiere Center in 1961.
Following his theological studies, Fr. Gray made his tertianship at St. Beuno's in North Wales under the famed Peter Paul Kennedy. He spent two years at Colombiere College and served as acting dean from 1963 until 1965. He completed graduate studies at the University of Wisconsin where he was a Knapp Fellow, and then served as Formation Director for the Detroit Province and Rector at Loyola House, Berkley. In the early 1980's, he was rector of the Jesuit School of Theology in Cambridge; he was also appointed as the dean for a year. He was named provincial of what was then the Detroit Province in 1983, and in 1985, was elected the Vice President of the Major Superiors (CMSM). At the age of 66, Howard left internal governance and formation work in the Society and became the first Director of the Center for Ignatian Spirituality at Boston College (1996-2001).
Over the years, Fr. Gray has served John Carroll University in many ways. He touched many lives and made a number of significant contributions at the University and across the Association of Jesuit Colleges and Universities (AJCU) network.  A few highlights are listed below:
Commencement Speaker in May 1988 while serving as the Provincial of the Detroit Province (1983-1989)
Commencement Speaker and Recipient of an Honorary Doctorate in Theology in May1999 while serving as Director of the Center for Ignatian Spirituality at Boston College
Rector of the Jesuit Community from 2001-2007
Special Assistant to the President for Mission and Identity and Founder of the Office of Mission and Identity 2001-2007
Principle Author of the John Carroll University Catholicity Statement developed over two years (2004-2006)
Instructor and Spiritual Director (2001-2007)
Founder of the Magis National Faculty Retreat, initially held at John Carroll (2003 and 2004)
Member of the Board of Directors (2005-2014)
Upon leaving John Carroll in 2007, he became assistant to the president for special projects at Georgetown University, a post he held until 2017. Since July 2017 he had been at the Manresa Jesuit Retreat House, in Bloomfield Hills.
Early in his Jesuit life, Howard was one of a group of Jesuits and lay people who helped bring back the one-on-one personally directed retreat. Throughout his seven decades as a Jesuit, he received six honorary doctorates, lectured extensively, and authored more than 60 articles and essays on Ignatian Spirituality, ministry, and the apostolic mission of Jesuit high schools and universities. Father Gray has lectured and taught courses in Eastern Africa, the United Kingdom, and Ireland.
View a message to the campus from Interim President Dr. Jeanne Colleran.
In Memoriam – Fr. Howard Gray, S.J., 1930-2018 — Conversations
---
Memorial Information
Events remembering and celebrating the life of Rev. Howard Gray, S.J. will be held Saturday, May 12, 2018.
All are welcome to attend.
Mass of Christian Burial
11:00 a.m.
Visitation at 9:00 a.m.
Gesu Parish
2470 Miramar Blvd.
University Heights, OH 44118
Reception Following Mass
John Carroll University
Muldoon Atrium in the Dolan Center for Science and Technology
1 John Carroll Blvd.
University Heights, OH 44118
For more information, please contact Ed Peck at epeck@jcu.edu.
---
As we remember the life and legacy of Fr. Gray at John Carroll University and around the country, please share your photos and memories with us below or on social media and tag them #FrGray.
View our full photo gallery on Flickr. To submit a photo, tag us on social media #FrGray or email journal@jcu.edu.