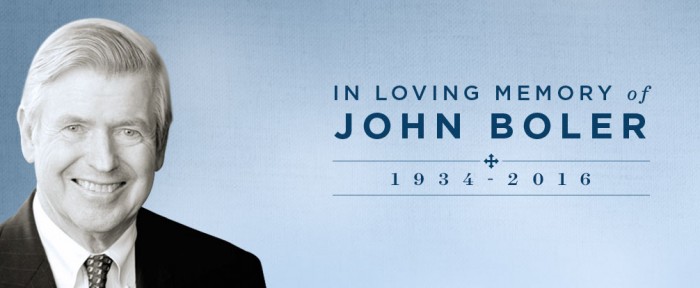 The John Carroll community mourns the passing of John M. Boler '56, '96H, who died peacefully on Friday, March 4, surrounded by his family.
"John always remained closely connected with John Carroll and especially his classmates after his graduation," Rev. Robert L. Niehoff, S.J., president of John Carroll University, said. "Both he and Mary Jo are firm believers in the transformative power of a Jesuit education, and through their generosity, the University can continue to provide world-class educational experiences to our students."
Born on April 4, 1934, in Marion, Ohio, Boler is survived by his wife of 58 years, Mary Jo (nee Lombardo), whom he met while he was attending John Carroll, as well as five children – Judy, Jill, Jim, Mike, and Matt – and 13 grandchildren.
The wake is Sunday, March 13, 2016, at Smith-Corcoran Funeral Home, 185 E. Northwest Hwy., Palatine, IL from 1 p.m. to 7 p.m. A Funeral Mass celebrating John's life is scheduled for Monday, March 14 at 11:00 a.m., at St. Theresa Catholic Church, 465 N. Benton Street, Palatine, IL. Interment will be private at St. Michael the Archangel Cemetery.
---
John M. Boler, chairman and founder of The Boler Company, earned a bachelor's degree in business administration from John Carroll University in 1956. Motivated by his family's difficult financial circumstances in the aftermath of the Great Depression, and by what he learned in school, Boler as a child decided he eventually would own and run his own business.
After graduating, he was commissioned a second lieutenant and served in the Army Transportation Corps and active reserves. After serving, he started his working career with Clevite Corp., later acquired by Gould, Inc. He ran several manufacturing facilities, then divisions, and finally the company's Latin American operations.
Experienced in the acquisition, financing, and integration of companies into the corporation's mainstream, in 1977, he decided to purchase a company of his own. In what is believed to be the first leveraged buyout ever, he acquired a small vendor to the transportation industry. Ultimately, he bought eight companies through leveraged buyouts, the largest of which is Hendrickson International. Today, The Boler Company's Hendrickson International subsidiaries are known worldwide for their leadership in suspensions and related systems for the heavy-duty and trailer markets.
Boler remained active with John Carroll throughout his life. He served on the University's Board of Directors for 26 years, delivered remarks as the 1994 Commencement Speaker, and was inducted as an honorary member of the JCU chapter of Alpha Sigma Nu, the national Jesuit honor society.
In 1996, in recognition of John and Mary Jo's gifts to the School of Business, the school was renamed the John M. and Mary Jo Boler School of Business. That same year, John and Mary Jo both received an honorary Doctor of Laws degree during Commencement. The Boler School is not the only campus space to carry the family name – in 1994, John and Mary Jo made a gift to name the D.J. Lombardo Student Center in memory of Mary Jo's father.
In 2005, Boler received the University's highest honor, the Alumni Medal, in recognition of accomplishments in his profession, his contributions to his community, and his dedicated service to his alma mater.