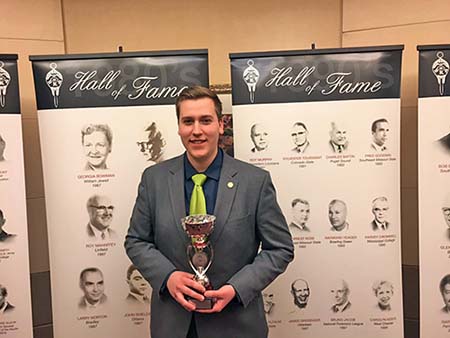 Zak Zinda '19 won the Pi Kappa Delta National Championship in Lincoln Douglas debate at Hofstra University.
A total of 77 schools, from New York to California, competed in a variety of speech events at the week-long event, which ended March 24, 2019. Zinda's nine debate rounds were judged by 15 critics. He went 8-1 by record, and 14-1 on ballot count. Zinda previously won the national title for first year college debaters in 2016. It was JCU's fourth national debate championship since 2000.
The topic for debate focuses on the need for the United States federal government to substantially increase actions by United States Cyber Command to prevent complex catastrophe and/or protect critical infrastructure. In his affirmative debates, Zinda advocated the use of behavioral economics analyses in preparing analysts for detecting possible cyber attacks. In negative rounds, Zinda defended current Cyber Command policies against areas chosen by his opponents.
Pi Kappa Delta is the national honor society for speech and debate, and has been in existence since 1913. The letters PKD were selected with reference to "Peitho, Kale, Dikaia," which is translated as "the art of persuasion, beautiful and just." The event will be held at San Diego State University in 2020 and Texas Christian University in 2021.
Debate is the oldest existing program on the JCU campus and can trace its leadership back to its founding in 1891.
Posted on March 26, 2019