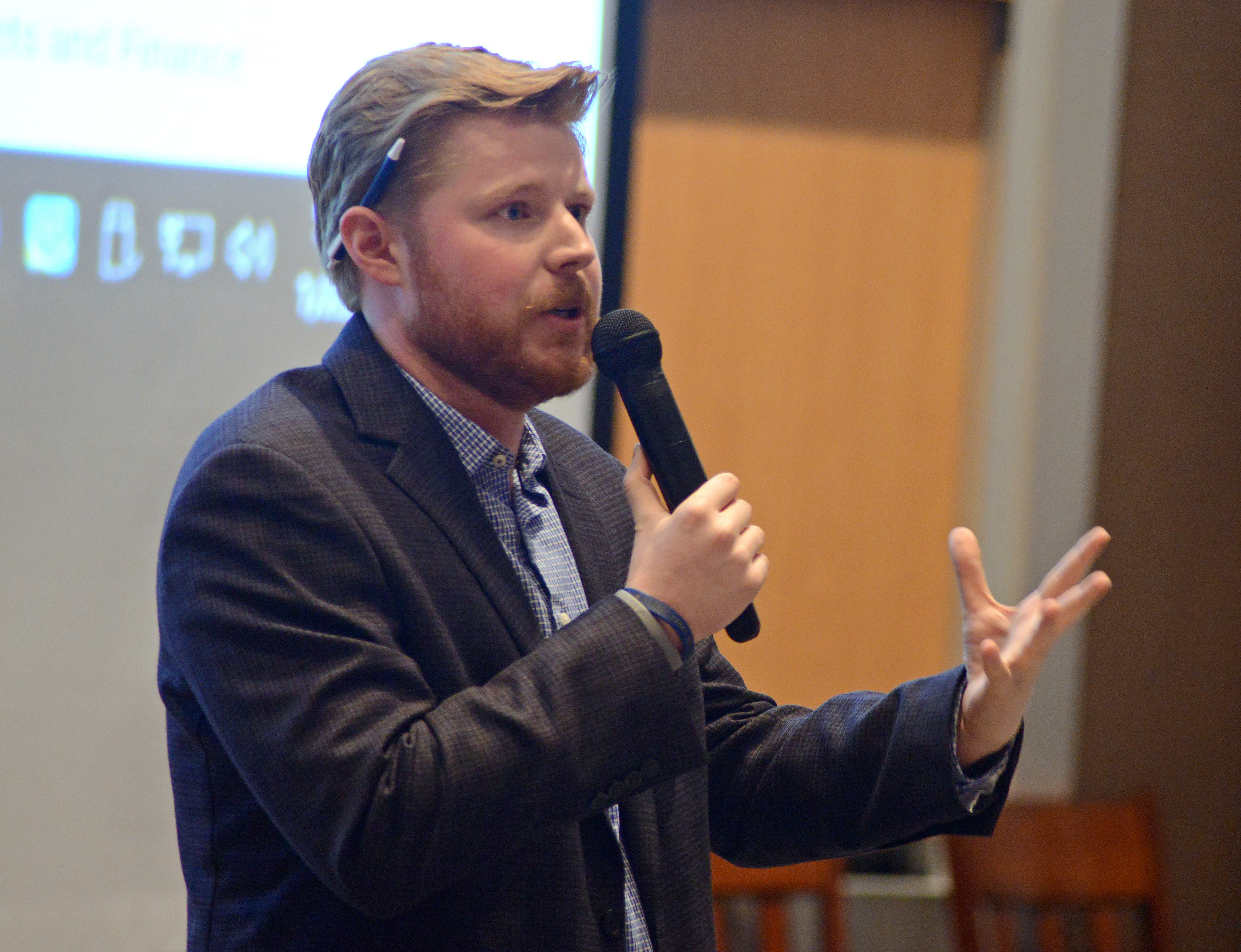 Ryan Brown '18 returned to John Carroll University to share insights on his experience at NBC News in Washington, D.C.
Five months into his nine-month role—and only seven months removed from graduation—Brown addressed a crowd of 75 students who have shown interest in the next fellowship. Brown is the 10th graduate to accept the NBC/John Carroll University Meet the Press fellowship, which is given annually to a graduating senior in honor of Tim Russert '72, the longtime host of the program.
Brown shared stories from his roles as a researcher, producer, and "guest greeter" for Meet the Press, the longest-running program in television history. He also highlighted his behind-the-scenes work related to Meet the Press segments–including Chuck Todd's interview with Michael Bloomberg focused on climate change, and the show's coverage of President George H.W. Bush's death.
Brown also explained a unique role he enjoys part-time: as Meet the Press guest greeter. Part of his duties include welcoming politicians, pundits, and other special guests upon their arrival at NBC studios in northwest D.C.
A conversation with former Vice President Dick Cheney in his role as "guest greeter" stands out as a highlight of the fellowship. "Mr. Vice President, my name is Ryan. Welcome back to Meet the Press."
On how his John Carroll experience is influencing his fellowship
"First and foremost, working at The Carroll News helped me with newsgathering and editing. There are a lot of skills that you'll learn on the job at MTP though. I didn't know what it took to make a TV show, and NBC has been so helpful in getting me up to speed."
On what skills are most beneficial in his role
"At NBC, they want someone to show up and work hard everyday. In many ways, any John Carroll student can do that. The second thing is to be knowledgeable about politics and what's going on."
On how he approaches research
"I try to provide a good balance because we are a neutral news source. People want facts. I don't put opinion pieces into news research, but we certainly would pull from both sides of the aisle for our panels discussions."
On his weekly schedule
"We book guests based on the news of the week. We typically begin the week on Wednesday, but the show really comes together starting on Fridays. We're gathering elements all week. Every morning, we have a call at 9:30 to discuss the news of the day and the week. Interns, fellows, and researchers are encouraged to participate. On Saturday, the producers are asking Chuck what he wants to include and then we spend the day sending elements to graphics. On Sunday, we're in at 5 a.m. and we're out by 12:00 p.m."
On what has been the most difficult part of the job
"Learning how it all worked, a lot of it on the fly. That was difficult and you can feel overwhelmed, but the NBC staff helped me through it. Walking into the control room for the first time, that was an 'oh my gosh, I don't want to screw anything up' moment."
On what has been the best part of the fellowship
"It's a fun job. Getting to know Chuck has been cool. Meeting the guests has been fun. You meet so many people who have done so much. There are not many negatives."
Posted on February 4, 2019