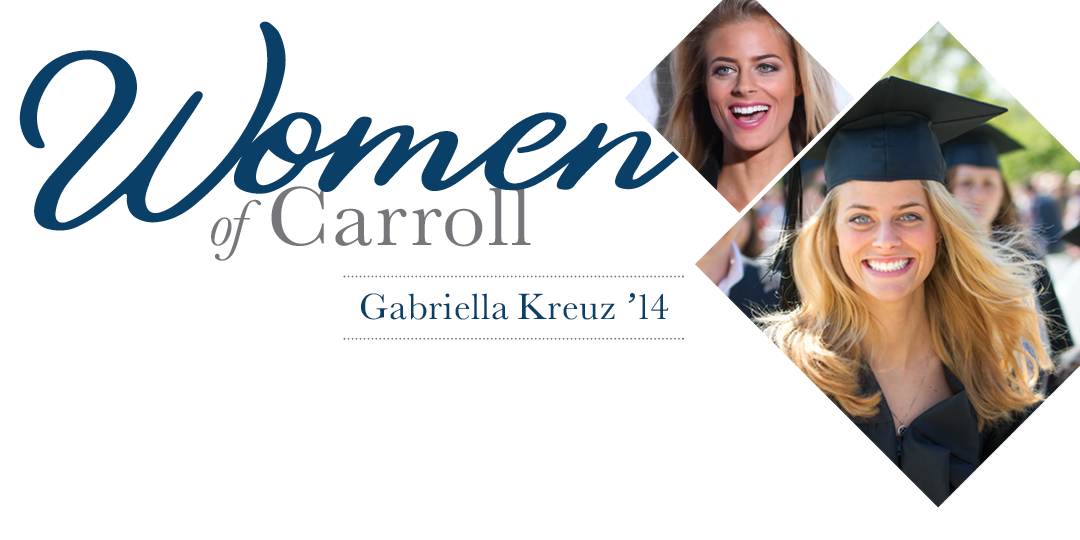 Teens from schools around northeast Ohio have been educated through programs hosted by Love Doesn't Shove, founded by Gabriella Kreuz '14. Students dialogue about healthy relationships, with the goal of preventing teen dating violence.
Love Doesn't Shove started with a conversation about schoolwork between Kreuz and her roommate during their senior year. Kreuz had recently switched her minor to sociology, and had taken courses in family violence, gender studies, and sexuality and behavior. In mid-conversation, she had a moment of clarity. "I told her, this should be talked about," she remembers. "I can't believe I have to minor in this to know it. There should be some kind of campaign, and it just came out — love doesn't shove."
Her campaign started at the campus level, where he leveraged her connections as a student-athlete to circulate a positive message. Since then, Kreuz has helped foster what she calls an "under the radar" movement locally, fueled by word-of-mouth and the bright orange wristbands that act as a unifying symbol for participants. Her network of participants now includes 16 high schools and organizations throughout northeast Ohio.
The mission of Love Doesn't Shove is to remove stereotypes from the equation and facilitate an honest dialogue about what it means to be in a healthy relationship. "We're here to reach everybody," she says. "We don't make generalizations about which is the abusive gender because the reality is that abuse goes both ways, emotionally and physically. We go into high schools (all-boys, all-girls, and coed), act out scenarios, and break it down in an open environment."
When she's not in classrooms or appearing on Fox Sports Ohio as a freelance personality, Kreuz spends her time as an in-park host at Progressive Field, entertaining the crowd on the scoreboard and interacting with fans around the stadium. "There is an array of people who come into the ballpark, from all walks of life," she says. "I love that aspect, especially meeting all of the kids."
As the organization evolves, Kreuz is planning to leverage her connections with the local sports scene, her public speaking experience, and journalism skills to produce video interviews with local Cleveland athletes for Love Doesn't Shove. "Kids need those positive role models," she says. "I want to include people who "walk the walk" off the field, and add more voices to the conversation."
Posted on December 21, 2018